Ballet flats are shoes inspired by ballerina slippers. Ballerina, or ballet, slippers are rounded-toe, form fitting, thin flat footwear worn by ballerinas during their dances. A true ballerina slipper style is meant for indoor use on stage and practice room floors rather than to be worn as outdoor shoes. Ballet flats are outdoor shoes modeled after ballerina slippers, but made with a thicker sole.
The soles of ballet flats meant for outdoor wear are made of thin rubber rather than the almost paper-like leather sole on ballerina dancing shoes. The actual professional women's ballerina shoe is also made of satin, which is a silky fabric, whereas ballerina flats are usually made of thin leather or canvas. Men's professional ballet dancing shoes are usually made of leather rather than satin, however.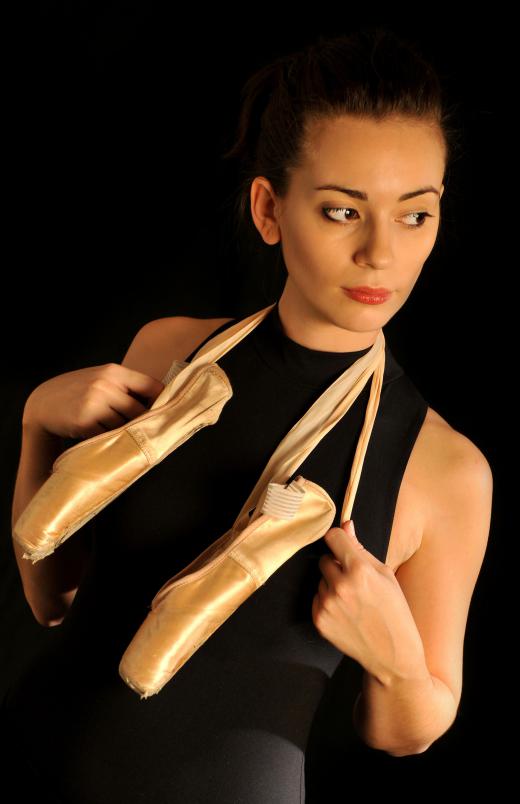 Ballet flats are always rounded with a thin sole rather than a heel, but other than that, there are many different looks available in these shoes. They range from the most casual canvas flat with a decorative zipper insert on the top to the fanciest party shoe covered in glittery fabric and sequins. In between are leather ballet styles that may be plain or feature a small thin bow at the front. These shoes are available in many fashion colors as well as the stand-by neutral tones, such as black and tan.
Wearing a basic leather flat to the office can give women a change from high heels. Ballet flats are usually very comfortable shoes to wear, especially if the rubber soles cause the shoes to bend easily. Ballet shoes with stiff soles may not be as comfortable. Most ballet style flats are extremely versatile and can work with many different outfits in all types of weather.
For instance, ballet flats worn with a t-shirt and knee- or calf-length pants in warmer weather have a cute, weekend appeal. The same shoes worn on a cooler day with tights, a knee length skirt, and a blouse create a totally different look that's suitable for work or school. A very feminine, yet ultra-comfortable way to wear ballet style flats is with a long, patterned skirt and a solid colored top in one of the skirt's colors. The color of the flats should coordinate with the top and skirt colors without matching them, to give a pretty, yet sophisticated appeal to the outfit.
Sparkly, glittery ballet flats worn with a similar type of top and a plain, shorter skirt can turn separates into a cocktail outfit. As an alternative to sparkle and glitter, metallic flats in gold or silver can also dress up separates. For instance, gold or silver ballet style flats added to a matching metallic silk top and a dressy, frothy black skirt can create a stunning, yet simple evening look.
AS FEATURED ON:
AS FEATURED ON:

By: Massimo Paradiso

Ballet flats are modeled after ballerinas' shoes.

By: serega1551

True ballet slippers are only meant to be worn inside on a stage or practice floor.