What are Ayurvedic Plants?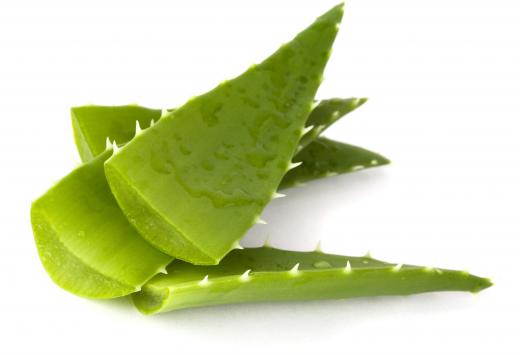 Ayurveda is considered a form of alternative medicine. Ayurvedic plants are those that are used by practitioners to treat specific diseases. Some types of ayurvedic plants include the adakkamaniyan, aampal, keezharnelli, ocimum sanctum, and other plants.
With roots in India, ayurvedic medicine has seen an increase in popularity as a complementary or alternative medicine to traditional Western medicine. Ayurveda focuses on balancing the energies referred to as vata, pittar, and kapha, known collectively as the doshas. Specifically, ayurveda focuses on the connection between the mind and body when it comes to achieving optimal wellness. In addition to exercises for the mind such as yoga and meditation, ayurvedic plants are also used to help treat different diseases and conditions of the body.
Adakkamaniyan, botanically known as Sphaeranthus indicus linn, is used in ayurvedic medicine for a number of conditions. The plant has purple or pink flowers that resemble small spheres. As one of many ayurvedic plants, it is used to treat migraines, fever, and cough. In addition, practitioners may use it to treat hemorrhoids and various skin diseases.
The aampal plant, botanical name Nympaea nouchali, is an aquatic plant with many uses in ayurvedic medicine. The leaves of the plant float and support the large flowers with a range of colors, including white and red. Medicinal uses include treating dysentery, diarrhea, and cardiac ailments.
In ayurveda, the Keezharnelli plant can help treat a variety of diseases and conditions. The entire plant is used in preparations and treatments, including the leaves, yellowish green flower, and small fruits. Uses include treating anorexia, urinary retention, ulcers, and constipation.
Ocimum sanctum is another one of the common plants used in ayurveda. The whole plant can be used, including the purple flowers and fruit. Common uses include treating patients who exhibit vomiting, bronchitis, asthma, and ringworm.
Ayurveda relies on a wide range of plants and herbs to help with the treatment of various disease and illness. For instance, the Brahmi plant may be used to help treat depression and fatigue. Triphala, which consists of the herbs amalaki, haritaki and bibhitaki, is used to cleanse the colon and improve immune system function.
Other plants and herbs exist that are commonly found in the use of ayurvedic medicine. Aloe vera can be used to treat sunburns and other skin irritations. Calendula can help ease the itching associated with eczema, and can also help soften dry and rough skin.


By: cedrov

Leaves of the aloe vera plant.

By: schankz

Ocimum sanctum is a common plant used in ayurveda to treat ringworm.

By: MediablitzImages

Adakkamaniyan is sometimes used by ayurvedic practitioners to treat migraine headaches.

By: Iryna Volina

Ayurvedic medicine originated in India.