Is There a Vaccine for Bird Flu?
Even though there are numerous treatment options and medications given by medical providers to people that have the avian virus, most experts agree that there is no proven vaccine for bird flu. There are numerous experimental drugs that have been introduced onto the market, but further studies are needed to evaluate the effectiveness of them for long term applications. Some of them have been shown to work at first, but it is still unknown whether the vaccines will effectively remove the virus from the human body and keep it from infecting the patient. An actual vaccine, such as polio and measles, is not available for public use, so precautions need to be taken by people around the world to prevent contracting this deadly disease.
One common question that people ask is whether the influenza flu shot that is available every year works as a vaccine for bird flu. The simple answer is no. The avian virus is a completely different strain of influenza; therefore, the basic vaccination for the various other types of influenza does not eliminate, or even decrease, the chance of contracting bird flu. As mentioned above, there are prescription medications available that do cure the disease on the outset, but the body quickly builds an immunity to the medicine which allows the bird flu to once again infect the person. More studies are underway to try and find a vaccine that will effectively prevent, and even eliminate, this type of influenza, but the problem lies within the human body itself.
The immune system within the body does not have an effective way to fight off influenza, which makes it impossible for scientists to find an effective, long-lasting vaccine for bird flu. The medication used is considered by the white blood cells to be an infection so it is actively removed from the body and an immunity is formed against it. Once again, since a guaranteed cure is not available, experts suggest that specific precautions be taken in order to prevent the virus from infecting people.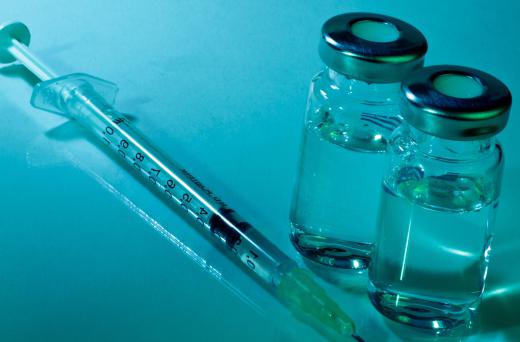 Another problem that is encountered by experts when trying to find a vaccine for bird flu viruses is that this kind of influenza is constantly changing. Once a medicine is found to be effective on one strain, it changes, making the drugs ineffective in treating it. This makes it nearly impossible for an effective vaccine for bird flu to be introduced onto the market with a guarantee that it will work correctly for every case of avian flu that is encountered.
Contrary to popular belief, it is hard for a human to get this disease from another human. Even though it is possible, the majority of cases are transmitted to people by ingesting poultry that is infected with the bird flu. In order to prevent this, simply be aware of what is being eaten, always fully cook birds, and avoid large poultry farms where infections may be present within the birds.
AS FEATURED ON:
AS FEATURED ON:

By: Anatolii

Bird flu can sometimes spread from chickens to humans at poultry farms.

By: alexphoto71

There is no proven vaccine for the bird flu.

By: emde71

Avian flu in adults is often initially mistaken for a seasonal flu.

By: artshotphoto

The common flu shot does not protect against bird flu.

By: robyelo357

The body's immune system does not have an effective way to fight off influenza.