How do I Use Red Yeast Rice to Lower Cholesterol?
Taken in pill form, it is possible to use the nutritional supplement red yeast rice to lower cholesterol. It must be combined with a regular regimen of exercise and healthy diet in order to be fully effective. The amount of red yeast rice to take depends on the strength of the particular product. It is important to consult a doctor before beginning to take red yeast rice for lowering cholesterol.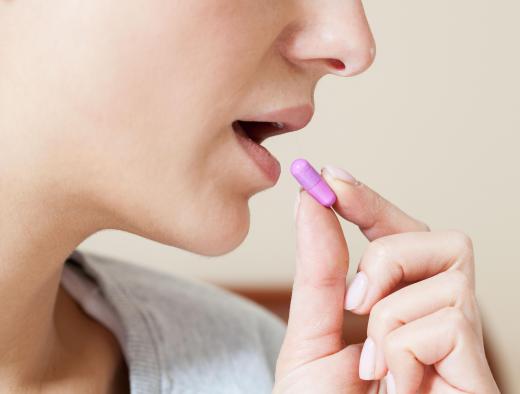 Red yeast rice is a non-prescription supplement which naturally contains lovastatin, which is also the active ingredient in the prescription drugs commonly used to treat high cholesterol. As its active ingredients are the same as in the drugs approved by the FDA, patients taking red yeast rice to lower cholesterol should approach the intake of the supplement the same way they would a prescription drug. For this reason, it is particularly important to consult a doctor before taking the supplement.
There are several things a patient looking to take red yeast rice should consider, with input from a doctor. Red yeast rice should not be taken with cyclosporine, the drug given to organ recipients after transplants. It also should not be taken by women who are pregnant or breast feeding or people who have heart disease, high blood pressure, or liver or kidney problems.
When deciding how to take red yeast rice to lower cholesterol, it is important to take into consideration the strength of each supplement being considered. As supplements are not regulated by the FDA, patients should be aware that there may not be consistency among the different kinds of pills available. It may be necessary to try different products in order to find the right formulation.
The red yeast rice supplement is most effective when taken in conjunction with a healthy diet and a regular program of moderate exercise. Patients should consume a diet low in cholesterol in order to aid the effects of red yeast rice. It is also important to engage in at least simple low-impact exercise such as walking.
As red yeast supplements are not regulated or created in a laboratory, it is important that patients who take them stay in regular contact with a doctor. Patients taking the supplement should stay alert for side effects, such as bloating, heartburn, and dizziness. A doctor should be consulted should any of these symptoms appear.
Patients should stop taking their red yeast rice supplement immediately if allergy symptoms appear. These can include swelling, hives, tightness in the chest, and breathing difficulties. It is important to contact a doctor as soon as possible if any of these symptoms appear as a result of using the supplement.


By: Shakzu

A doctor should be consulted before taking red yeast rice supplements.

By: Photographee.eu

Red yeast is often taken in pill form.

By: rob3000

LDL cholesterol negatively impacts the body by accumulating in the arteries.

By: Alexandr Mitiuc

High levels of low-density lipoprotein cholesterol in the blood may lead to clogged arteries.