How Do I Recognize the Symptoms of Throat Cancer?
Recognizing the symptoms of throat cancer can be difficult because the symptoms may seem to be the result of another illness and often do not directly cause pain or discomfort of the throat. Paying attention to the person's overall wellness and health is important because early diagnosis means the patient will receive necessary medical treatments before the cancer begins to spread. The main signs of throat cancer are an ongoing cough, weight loss, trouble breathing, a hoarse voice, blood in nasal discharge or phlegm, and throat lumps.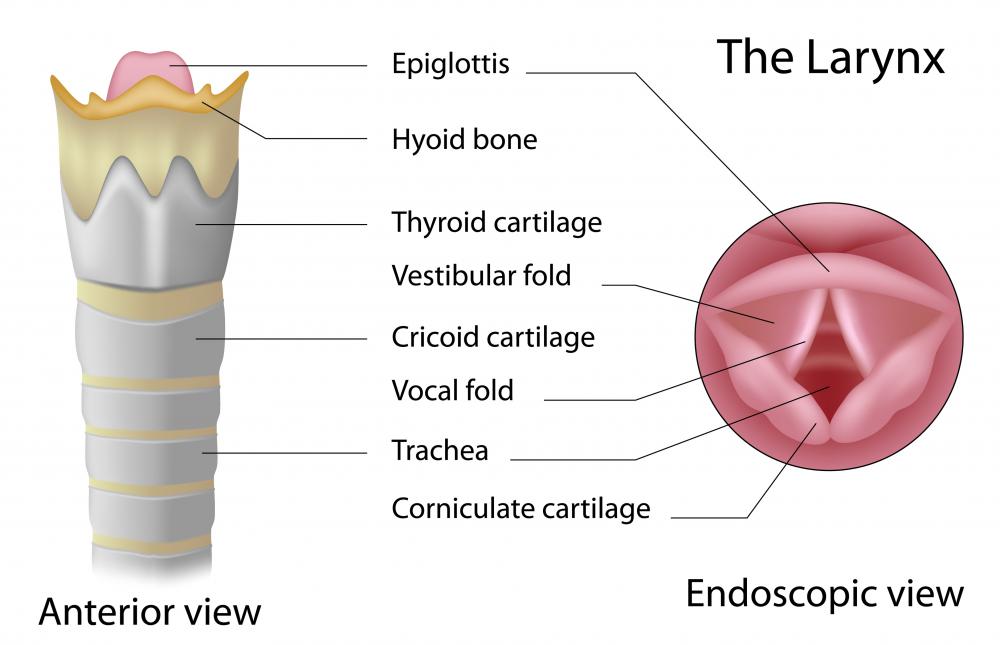 An ongoing cough can be one of the symptoms of throat cancer. Many people may think that this is the result of a cold or flu, but if the cough does not go away or if there is blood in mucus that the person expels the person could have throat cancer. A cough is the body's natural way of clearing the throat and expelling bacteria, but if the person has throat cancer the throat may be inflamed or infected with cancerous cells that cause irritation. Coughing is very common in individuals who develop throat cancer as a result of smoking or chewing tobacco.
Significant weight loss without an identifiable cause is another symptom of throat cancer. The cancerous cells ravage the body and cause the person to loose a large amount of weight quickly. This symptom is associated with many other diseases and cancers, so the person should consult a physician for more information and a diagnosis.
Trouble breathing and swallowing or a hoarse voice are also signs of throat cancer. Certain types of cancer, such as hypopharyngeal cancer or glottic cancer, begin in the larynx of the throat, which is responsible for making the sounds emitted from the mouth and for the muscles of the esophagus responsible for swallowing. Cancer in this region can cause the person's voice to seem scratchy, and he or she could experience pain and discomfort when swallowing.
Throat lumps develop when cancerous tissue forms a cyst or tumor in the esophagus. The lump may be felt from the outside of the throat or the person could experience the sensation of having something stuck in his or her throat. Sores or bumps that form in the back of the mouth or on the tonsils could be a sign of oropharyngeal throat cancer. A person should immediately consult a physician if he or she experiences any of the symptoms of throat cancer.
Chewing tobacco, which can cause throat cancer.

Cancer of the larynx is one type of throat cancer.

Trouble breathing and swallowing may be symptoms of throat cancer.

An ongoing cough can be one of the symptoms of throat cancer.

Pain or paralysis in the facial muscles could be a sign of throat cancer.

A lump in the back of the throat may be a sign of throat cancer.