How do I Plant a Vegetable Garden?
Growing a vegetable garden is an economically smart way to enjoy seasonal vegetables. A vegetable garden is easy to grow and take care of. Vegetable gardens can be grown almost anywhere, from a couple of planters near an apartment window to a huge vegetable garden on a farm.
It is important to plan ahead when growing a vegetable garden. Some vegetables, like corn, require special types of soil. Fertilizer can be added to the soil to make the vegetables grow better. Vegetable gardens are traditionally grown in rows, with each vegetable getting a row or two of its own. For a more decorative look, it is possible to mix flowers in with the vegetables, and design the garden as part of landscaping. This combines both functionality and beauty.
When planning a vegetable garden, it is important to know that some vegetables do not grow well together. Beans inhibit the growth of onions. Potatoes cannot be grown in with tomatoes and squash. Broccoli doesn't work well with tomatoes, and dill cannot grow properly around carrots. When planting these vegetables, keep them far enough away from each other so that they don't interact.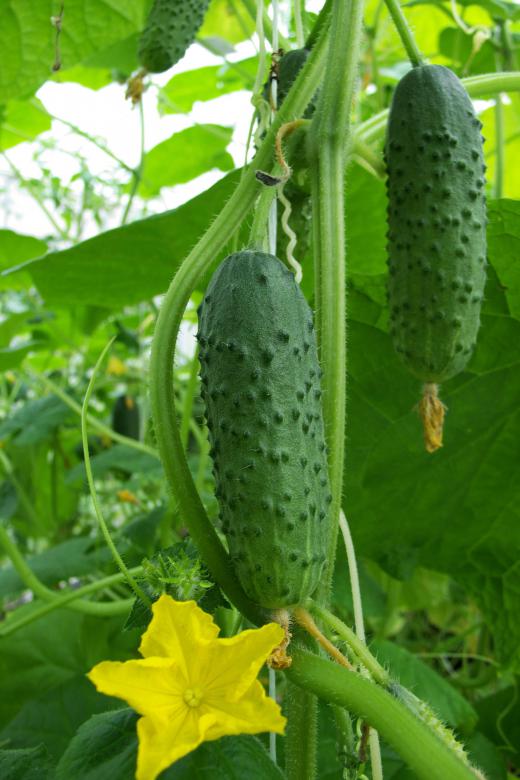 Before tilling the ground for your garden, consider where you are planning to grow. A garden should be started in a well-lit area, close enough to the house so that the garden hose can reach it. Being closer to the house also increases the care that the garden will get. Most people will spend more time on something that they see multiple times a day. Also consider the size of the garden, based on the number of plants you want to grow, and how much space they each need. Corn, for example, doesn't need much room to grow in. Squash does, because it spreads along the ground.
Vegetable gardens are usually started with either seeds or young plants, called seedlings. The seeds are easier to start with when you live in a warmer climate. In cooler areas, it is best to buy seedlings. If you have an area in your home that can be dedicated to plants, you could even grow your own. Starting the plants before planting them outside gives them a better chance of reaching full maturity during the summer.
Proper weeding, watering, and care should be enough to prevent a serious insect infestation in a vegetable garden. If it isn't, there are a few alternatives to getting rid of the pests. Insecticides are the most common approach. They kill the pests. Some even prevent the pests from returning. Remember to thoroughly wash vegetable before eating from a garden that has been sprayed with chemicals. For a chemical-free alternative, introduce beneficial insects to your garden. These insects, such as ladybugs, will eat the bad bugs destroying your garden without the use of insecticides.
The best time to harvest the vegetables from your vegetable garden is at their peak of ripeness. Most vegetables will be firm, yet slightly yielding to pressure. They should be very aromatic. Picking vegetables at their peak will ensure the best flavor and the most nutrients.
Becoming a gardener is not difficult. Vegetable gardens are a great way to start because they are very forgiving of small errors. A bountiful harvest is a goal that is easy to obtain. With a little planning, and routine care, anyone can grow a successful vegetable garden.
AS FEATURED ON:
AS FEATURED ON:

By: Ovidiu Iordachi

Vegetables.

By: Natalya Korolevskaya

Cucumbers growing on the vine.

By: PhotoSG

Weeding is a necessary part of vegetable garden upkeep.

By: zigzagmtart

Squash typically needs more room to grown since it spreads across the ground.

By: sokoloffoto

Ladybugs can be used as a natural insecticide in a vegetable garden.