How do I Make Mashed Potatoes?
A staple at dinner tables throughout the United States, mashed potatoes are a simple and delicious side dish that can accompany a variety of main dishes. Recipes for mashed potatoes range from the extremely simple to the elaborately spiced, but to make a tasty side dish for your next meal, you don't have to do much work to get going. Start off by going to the store for your staple ingredients: potatoes, onion, cheese, salt, pepper, garlic, sour cream or heavy cream, and butter. Be sure to have a potato masher on hand; a large spoon may be substituted for the masher, but the masher makes the process far easier.
It is important to select the right potatoes for your mashed potatoes. Russets work just fine, but other types of potatoes may produce creamier, richer tasting mashed potatoes. Yukon Gold potatoes are a good choice. Buy 6-10 potatoes and peel them, then cut them into lengthwise quarters. Place the quartered potatoes in a large pot and fill the pot with water until all the potatoes are covered. Boil the potatoes until they are soft – you should be able to break through them easily using just a fork – which can take anywhere from 15 to 25 minutes.
Once the potatoes are soft enough, drain the water from the pot. You will need a potato masher or a large spoon to begin mashing your potatoes. Add heavy cream or sour cream as you mash your mashed potatoes, as well as butter. Milk may be substituted if you prefer; this will adjust the texture to your liking, so add a little bit of each ingredient at a time. Your mashed potatoes should have a smooth consistency once you are done mashing, though some cooks prefer chunky mashed potatoes. This is up to your discretion; mash your mashed potatoes until the consistency is to your preference.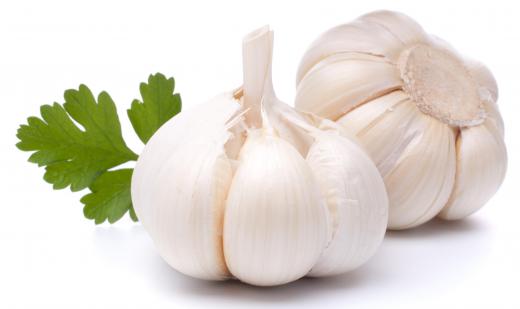 Once your mashed potatoes are mashed to your liking, it's time to spice them up. Feel free to get creative here, but start with the basics: salt and pepper to taste, chopped green onion and chopped garlic. For added taste, try adding shredded cheddar cheese or chopped bacon. That's all there is to it, but if you want to add a bit more flare, try spreading the mashed potatoes into an oven-safe dish, spreading cheese on top, and baking for five to ten minutes.
AS FEATURED ON:
AS FEATURED ON:

Various types of potatoes.

By: Natika

Garlic, which can be used to flavor mashed potatoes.

By: Kelpfish

Bacon pieces can be added to give mashed potatoes extra flavor.

By: mbongo

A bag of potatoes.

By: uwimages

Salt and pepper are commonly added to mashed potatoes.

By: Natika

Onions can be added to a mashed potato dish.

By: Viktor

Sour cream may be used to make mashed potatoes.

By: Viorel Sima

Heavy cream can be added to mashed potatoes for enhanced flavor and texture.

By: Amelia Crook

Boil potatoes until they are soft.

By: Bert Folsom

Top mashed potatoes with shredded cheddar cheese for added flavor.

By: Elvert Barnes

Yukon Gold potatoes and red potatoes are both touted for their ability to render creamy mashed potatoes.

By: Natika

Yukon gold potatoes can be used to make mashed potatoes.

By: Joe Gough

A metal masher can be used to mash the potatoes to the desired consistency.