What Are the Best Tips for Making Creamy Mashed Potatoes?
Creamy mashed potatoes usually have a buttery taste and are smooth in texture. The basic ingredients in such a recipe generally include potatoes, salt, pepper, butter, and milk or cream. Making creamy mashed potatoes requires using the right kind of potatoes, preparing the potatoes properly, and mashing the potatoes well to remove lumps.
Many different types of potatoes may be used to make this dish, but many people believe the optimal type for creamy mashed potatoes is the Yukon Gold potato. This variety has a starch and moisture content that gives it a moist, buttery taste after being cooked. When using Yukon Gold potatoes to make mashed potatoes, the skins should be removed prior to cooking in order to prevent the dish from having a grainy texture. Fresh potatoes, without any green spots or sprouting, will produce the best taste.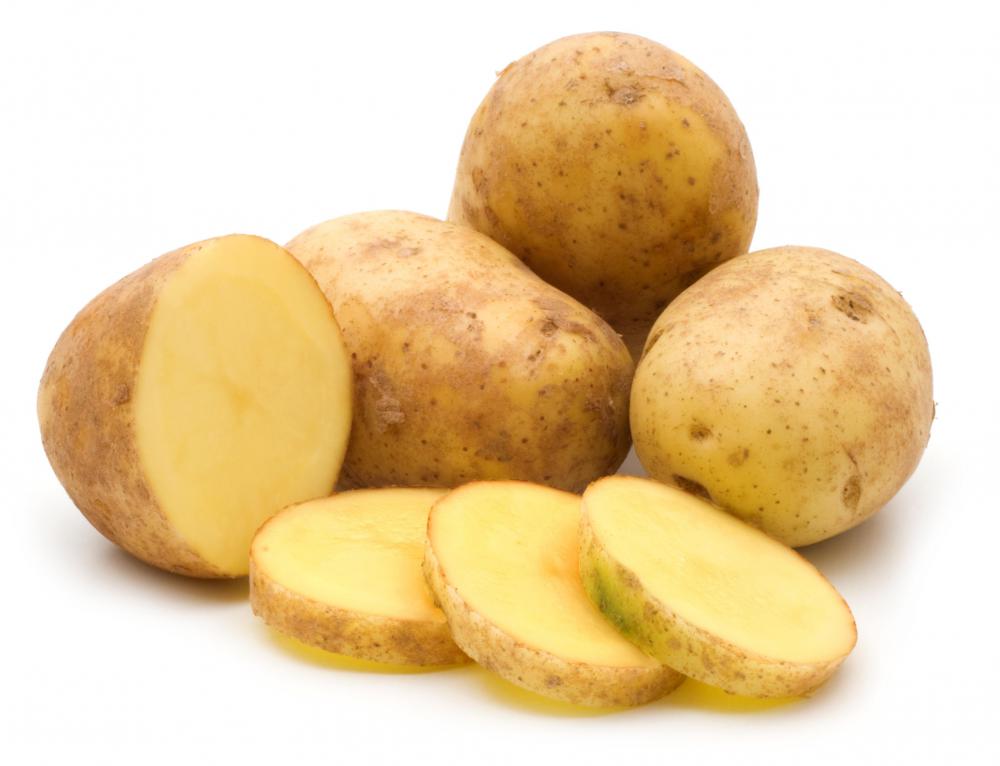 Before boiling, the potatoes should be chopped into mostly uniform medium-sized cubes to ensure even cooking. The water used to boil the potatoes should be lightly salted and at room temperature. Bringing the water to boil with the potatoes already in the pot produces the best cooking results. The potatoes will be done cooking when they are tender and can be pierced with a fork. Undercooked potatoes will not mash well and over-cooked potatoes are likely to be starchy and mushy.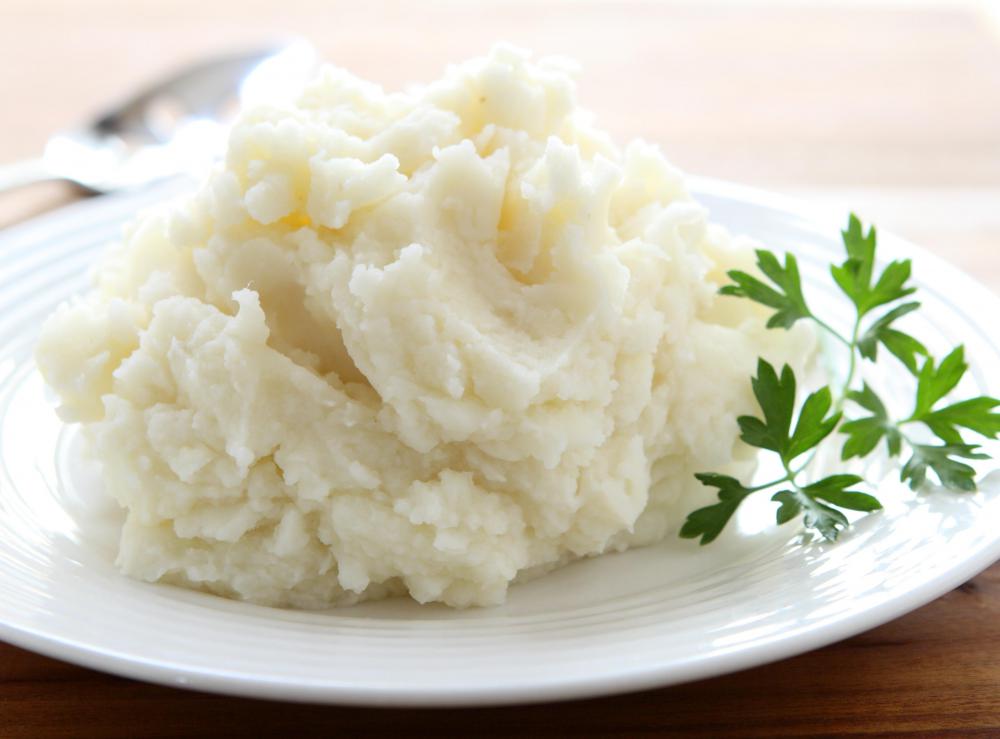 After cooking, as much moisture as possible should be removed form the diced vegetables. A strainer or colander can be used to accomplish this, and the liquid can be discarded. The potatoes should be put back in the cooking pot and left to sit for a few minutes until they have dried a bit. Potatoes that have been allowed to dry in this way usually make creamy mashed potatoes when combined with the other ingredients in a mashed potato recipe.
Most basic creamy mashed potato recipes call for milk or cream. The milk used should have a fat content of at least 2%, but heavy cream will give the mashed potatoes a richer taste. For a variation on the basic recipe, sour cream or softened cream cheese can be used instead of milk or cream.
The cooked potatoes should be mashed while they are still warm. For the best results, the milk or cream and butter should also be warmed before being added to the potatoes. The potatoes can be mashed using a mashing utensil or and electric mixer. If using a masher, it is important to thoroughly mash to remove all lumps. Using an electric mixer on a low speed will quickly mash the potatoes into a smooth texture. Milk or cream should be added slowly to achieve creamy mashed potatoes, keeping in mind that too much will result in a soupy finished dish. Salt and pepper can be added to taste at the end, and mixed in quickly, before service.