How do I Make a Crochet Scarf? (with picture)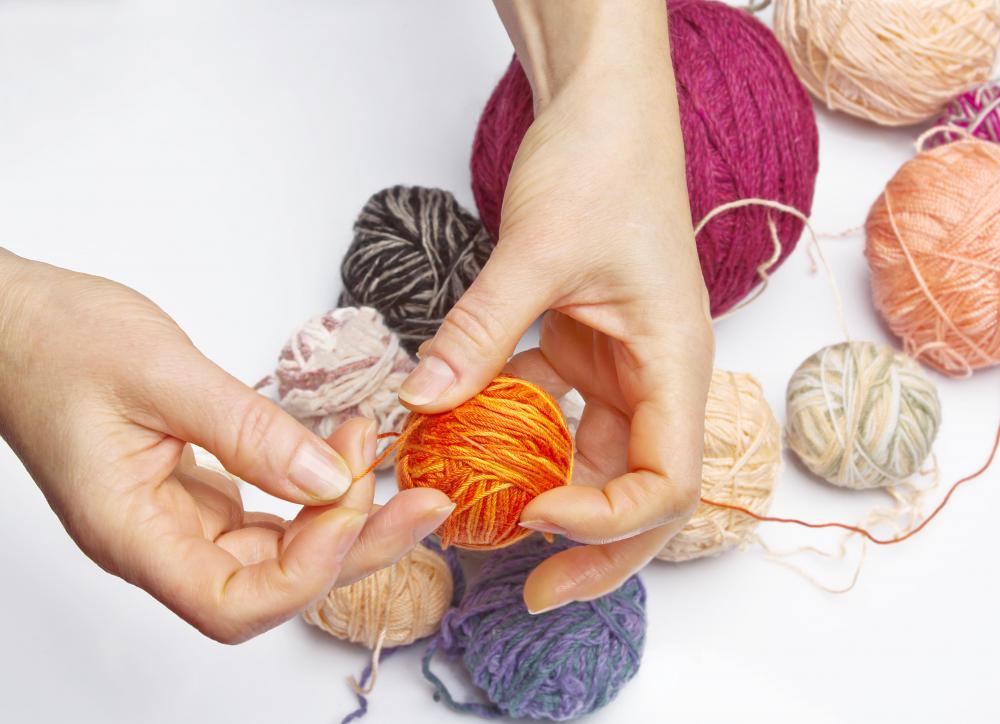 Creating a crochet scarf is a wonderful project for beginners and veterans alike. For beginners, it is one of the first projects that they can produce with a usable project. Those who have been crocheting for years can make an easy crochet project quickly, or can use this simple piece to showcase their pattern making talents.
The crochet artist can choose to make a scarf for themselves or as a gift for someone else. Even for those just starting out, a crochet scarf is an excellent project for gift-giving since the simple shape hides small errors very well. Loved ones appreciate the time and effort that is put into a usable and thoughtful gift like a homemade crochet scarf.
Before deciding the project, the first thing to do is to choose the type of yarn to be used. There are countless single colors of yarn available that can be used alone, changed out to create a pattern, or doubled up with a coordinating color to make a thicker more colorful scarf. Multicolored and decorative yarn is also a popular item for producing a crochet scarf and can add pizazz to the project. There are varying textures of yarn, so it is a good idea to purchase a soft yarn that will be comfortable on the skin.
In general, the average scarf will need at least one skein, or ball, or yarn. Since sizes of skeins vary, aim for purchasing about 5-6 ounces (140 - 170 g) of yarn. A size I crochet hook usually works well to make a crochet scarf. If choosing a very thick yarn, go up one size hook.
There are many types of crochet scarf patters. Many are available online for free, or in craft stores. For the most basic scarf possible, you can do the following.
Make a slip knot and chain about 15 stitches, or as many as desired for the width of the scarf. Keep note of how many stitches are chosen. Once the desired width is reached, make another chain stitch and turn the scarf over. This stitch is the corner.
Place the hook in the chain next to the corner and make a single crochet stitch in this chain. Continue to make single stitches across the whole row. At the end of each row, be sure to count the stitches to ensure that they have remained equal to the original chained row.
Turn the scarf over and make another row of single stitches on top of the first one, using both of the loops from the stitch underneath. Continue this way, making rows of single stitches until the scarf is the length desired. On the very last row crocheted, cut the yarn and pull the end of it through the final crochet stitch's loop. Pull it tight to knot off the stitches.
After the basic scarf is completed, embellishments like wool tips or fringe can be added. For the very creative, iron-on patterns or patches can be added as well. This simple crochet scarf can be as complicated or as easy as the crochet artist desires.
It typically takes at least one ball of yarn to crochet a scarf.