How Do I Get the Best Hair Extensions Training?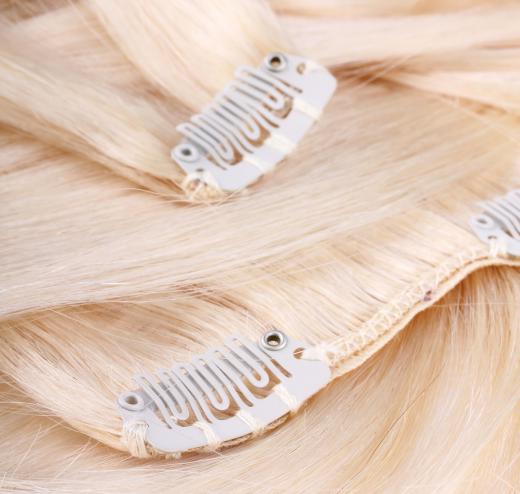 You can find quality hair extensions training by enrolling in hair extensions courses, attending seminars taught by a reputable hairdresser, or even studying an instructional video. The training that works best for you will depend on your learning style and current hair styling skills. Regardless of the type of courses you choose, keep in mind that practice will help you make the most of your training.
Often, people obtain hair extensions training during beauty school or cosmetology school. They might learn to put in hair extensions as part of a general curriculum, or they might take special hair extension courses. If you're considering or already attending a beauty or cosmetology school, be sure to ask about hair extensions training, as well as for details about what the training entails. For example, a thorough hair styling training course that deals with extensions will teach you how to put in a variety of extensions, and not just one type of extension or extensions for one hair type.
If you're not interested in any kind of hairdresser school, you can still find quality hair extensions training. Some stylists regularly teach courses on their own or as adjunct teachers to existing schools. Check neighborhood bulletin boards or the community events or classifieds section of your local newspaper or news channel's website. You can contact schools in your area to find out about upcoming individual courses, or even contact stylists directly about any hair extensions training seminars they might have planned or be interested in offering. Before you sign up for any course or seminar, try to talk with the stylist's past and present customers and learn more about his or her reputation.
Of course, you can also take advantage of what technology can offer. If you learn better on your own and already have some hair styling skills, consider searching for hair extensions training videos. You might be able to find free or for-profit training videos online or to order. Check popular hairdresser websites or catalogs for such videos. Just be sure to check reviews to learn about other customers' experiences.
Practice is key when it comes to applying professional hair extensions. No matter where or how you obtain your hair extensions training, you'll need to practice both to perfect your technique and keep your skills fresh. If you attend a hairdresser school, you'll likely practice on mannequin heads as well as real people. Make sure the training class, seminar, or video you choose teaches you how to put in hair extensions for a variety of hair types. Spend time practicing with each of those hair types.


By: pavel Chernobrivets

Blonde hair extensions.

By: RTDS

A stylist putting in hair extensions.