How do I Find a Rental with No Security Deposit?
People can seek out a rental with no security deposit in a variety of ways, ranging from looking for rental ads with no deposit required to negotiating with a prospective landlord to waive the deposit. Rental options tend to be limited when people cannot afford or do not want to pay a deposit, and it helps to budget more time for the search to make sure people have an opportunity to find an appropriate housing option. As with other housing searches, people should consider factors like whether they can afford the monthly rent, the location of the home, and any special policies attached to the lease or rental agreement.
Sometimes, landlords may offer rentals with no security deposit. This is most common among older landlords who may be renting a second unit on their own properties. These landlords may feel confident that they can identify any problems with the unit early, or may want to find reliable tenants and be willing to consider flexibility in terms of rent and deposits to get the right person. Many of these properties are not publicly advertised and it helps to have community connections to find them. These same connections can be valuable references when people are competing for rental units.
Property management companies and landlords managing multiple properties for income are usually less forgiving on deposits, but sometimes there are options available. Periodically, it is possible to find move in specials where people only need to pay the first month's rent to move in. These may be advertised in a paper or in the office of a rental company. If a property stays on the rental market for a long time, a prospective tenant could ask about the possibility of renting without a security deposit and the landlord may agree in a desire to get a tenant into the property.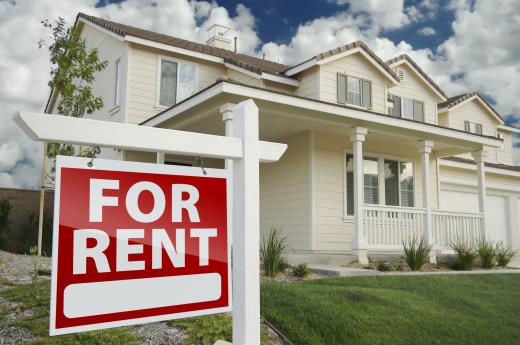 Taking over a lease can sometimes be another way of renting with no security deposit. This requires an agreement with the former lease holders and the landlord. Usually, people want their deposit back when they move out, and the new tenants must pay a deposit to move in. If the lease came with no security deposit, however, the new tenants can ask for the same terms when they move in, as they are assuming the lease rather than starting a new one.
People who want to rent with no security deposit should rely heavily on word of mouth. Letting friends and neighbors know that they are looking may yield some leads. People can also ask for help through a rental agent, specifying no deposit as one of the terms they need in a rental.
AS FEATURED ON:
AS FEATURED ON:

By: alexshalamov

Word of mouth is a great way to find a rental without a security deposit.

By: Andy Dean

A landlord may be more flexible about a security deposit if a rental property has been on the market for a long time.

By: andiafaith

Taking over a lease can sometimes be a way of renting with no security deposit.