How do I Find a Good Plumber?
Finding the right plumber for the job you have at hand is a task that requires a little investigation and proper evaluation of your options. For smaller jobs, just about any certified plumber will do. However, if you have more complicated work that must be done, you will need to assess the abilities of the available plumbers a little more closely. Here are some tips on how to find the plumbing professional that is ideal for your needs.
Your first task is to identify the job or jobs you need accomplished. It may be that you have tasks that any plumber can handle with ease. These include unclogging a toilet, repairing a faucet in the kitchen or bathroom or fixing a leaky showerhead. When you have work of this type, just about any plumbing professional listed in the telephone directory is a fairly safe option, providing he or she is licensed to operate in your area.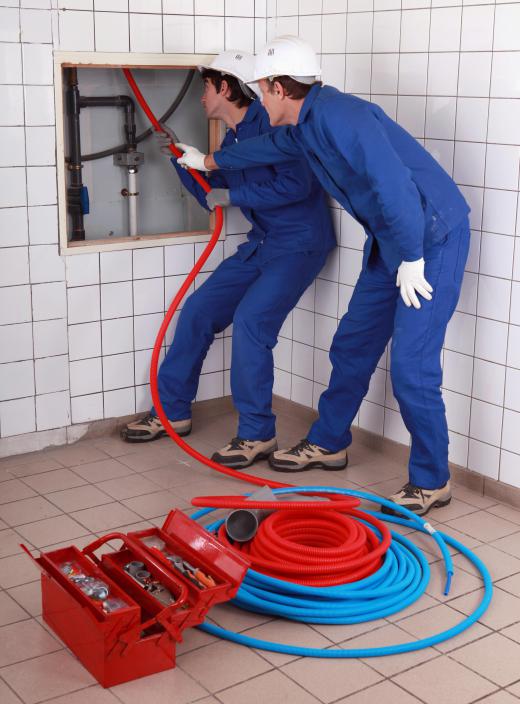 For more comprehensive projects, you may want to be a little more selective. If the job at hand is to install a toilet, new shower, or sink, knowing a little more about the skill level of each plumber you consider is important. One viable option is to contact any local unions or associations connected with plumbing or construction. There is a good chance they can direct you to properly certified plumbers who specialize in tasks of this nature.
It may be that your project has to do with installing a new heating system or installing air conditioning ductwork and piping. In this situation, you can often find some excellent references for plumbers from construction companies in the area. It is not unusual for contractors to subcontract work of this type out to plumbers when working on a new building project. Not only can you get names and contact information, but also receive feedback on the competency level of each plumber the contractor mentions to you.
There is also the option of asking those in your social network for recommendations on local plumbers. Since just about everyone needs a plumber at one time or another, there is a good chance you can come up with several names. Best of all, you can ask questions about punctuality, how quickly the work was completed and would the friend or relative hire the plumber again. This approach can help avoid the possibility of hiring a plumber that does not do particularly good work, or has poor work habits.
Don't overlook the possibility of finding the ideal plumber through your local chamber of commerce. Even if you live in a rural area, there is a good chance that some sort of regional chamber is active in your community. You can scan the members of the chamber and possibly come up with several plumbers or plumbing companies that you can contact and possibly hire for your project.
Finding plumbing experts that are right for your needs is not difficult to do. By identifying the type of project you have in mind and then finding a plumber who has experience with that type of project, you can easily obtain his or her services and have your kitchen or bathroom plumbing up to par in no time.
AS FEATURED ON:
AS FEATURED ON:

By: auremar

Some internet message boards list ratings for individual plumbers.

By: Africa Studio

A toilet is a plumbing receptacle for human waste.

By: sima

Plumbers who offer emergency services may list their contact information online.

By: LoloStock

For smaller jobs, just about any certified plumber will do.

By: auremar

The best place to start is to talk to friends and family about who they use for plumbing repairs.