How do I Encourage Fingernail Growth?
There are several ways you can help encourage fingernail growth. Many of them are things you should be doing anyway, but if you have gotten off track, now is a good time to get back on. Others have more to do with the nails directly.
First, fingernail growth partially depends on your lifestyle and overall health. If you are eating healthy and drinking plenty of water, this will prevent anything from hindering your nails from growing. Additionally, brittle nails, discolored nails, and ridged or spotty nails can all be signs of underlying conditions. Anything from iron deficiencies to nail fungus can be discovered by looking at your fingernails.
Next, make sure you keep your nails clean and make sure to dry them thoroughly after each hand-washing. Both techniques encourage fingernail growth and help prevent infection beneath the nail bed. If you will be doing something that may get your nails extra dirty, like gardening, wear gloves and clean them carefully with a nail brush.
You should also consider using lotion on your nails daily. If you already have a daily hand moisturizing routine, this should be no problem. There are lotions on the market made specifically for nails, but there is no real benefits for fingernail growth obtained by using these products. Your everyday hand lotion will work just as well at keeping your nails and cuticles moist and strong.
The use of green tea has also proven beneficial for fingernail growth, because it provides them with a host of vitamins and minerals. Get your daily dose by drinking green tea once or twice a day, and soaking your nails in it once a week. You can also purchase green tea-infused polish, or use essential oils to rub on your nails a few times a week.
Be sure to use a base coat when using polish, as it will help protect the nails. Always file in one direction to prevent tearing, and push cuticles back regularly. Do not cut your cuticles. You may also try using a base coat only to discourage yourself from biting your nails. If nailbiting is a problem, find constructive ways to distract yourself whenever you feel anxious or bored.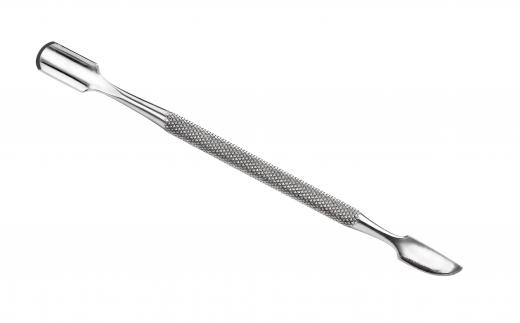 Remember, your nails need the same care and attention any other part of your body needs to maintain optimum health and appearance. If you have tried all the techniques listed above and still do not notice a change in the growth of your nails, consult your doctor about a possible infection or underlying condition. A nail fungus could be to blame.
AS FEATURED ON:
AS FEATURED ON:

By: Martinan

Using lotion can help your fingernails grow.

By: travis manley

Exposing the nails to polish remover regularly can weaken them, discouraging growth.

By: Maksim Kostenko

Metal orange sticks are used to push the cuticles back.

By: Dmytro Titov

Some fingernail polish is infused with green tea to promote fingernail growth.

By: Valua Vitaly

Pushing cuticles back with a wooden stick is recommended over trimming or cutting them.

By: Coprid

A nail brush can be used to help keep the fingernails clean and free of nail bed infections.

By: terex

To avoid weakening the nail, it should be filed in only one direction, instead of using a sea-saw motion.