How Do I Choose the Best Weaving Thread?
Choosing the best weaving thread for your project can mean the difference between a pleasurable weaving experience with a quality result and a technically frustrating one that ends with a poorly executed or incomplete project. In choosing your threads, remember that weaving requires the use of two different types: the warp thread and the weft or filling thread. As a weaver, you should be aware that each of these threads presents a specific set of selection criteria. When choosing warp thread, the most important factor is that it must be strong enough to not break during weaving and should not fray. For filling thread, a wide variety of products can be used, and the best choice typically will depend on what suits your project.
Warp threads are the lengthwise yarns or strings that are used to dress the loom. They must be strong enough to withstand the tension of the equipment and the abrasive effects of the weaving process. With your entire weaving project riding on how well it performs, the weaving thread that you choose for your warp is the most important choice as you are planning your project.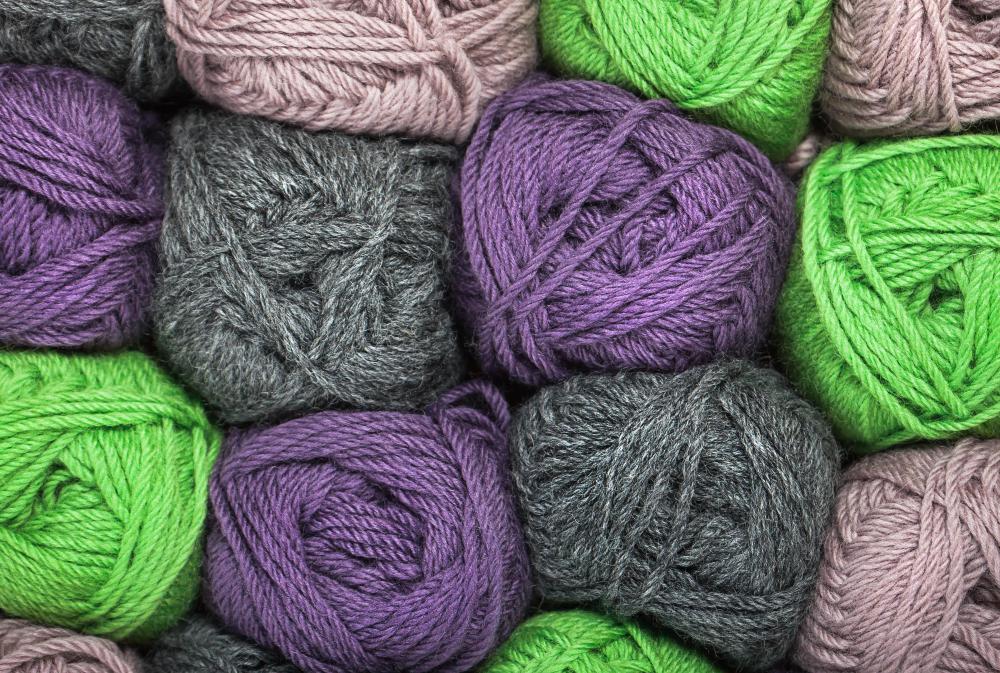 Although most fibers can be used for the filling, only certain types can be used for the warp. If the product that you are considering has not been designated as a warping thread, two simple tests will give you some idea of how it will hold up during the weaving process. To see if the thread will break while you are weaving, try giving a sample of the thread a series of hard and repetitive tugs between your hands. Then, roll the thread between your fingers to see how much it will fray, if at all.
Rugs and tapestries demand the use of heavy string or twine that will tolerate the beating process, but depending on the project, a warp thread does necessarily have to be thick or of a heavy weight. Some synthetic fibers, although they might be fine and delicate in appearance, can make for a very strong warp thread. Typically, synthetic fibers such as acrylic, nylon, polyester and rayon are less elastic than natural fibers such as cotton, linen, silk and wool. Of these natural fibers, linen has the least amount of elasticity, and wool has the most.
If you are a beginning weaver, it would be best for you to avoid any of the "fuzzy" yarns. These have a tendency to stick together, especially on multi-harness looms. This will prevent you from achieving a clean, deep shed while you are weaving.
Choosing the best weaving thread for your filling is the one area where you can have the most fun and enjoy the most flexibility. Almost any material — plain or novel — can be used as a filling thread: crochet thread, embroidery thread, knitting thread, sewing thread — even grasses, leaves and twigs. In selecting your filling threads, just keep in mind that your fiber should fit your project, and understand whether your handwoven article will need to be cleaned. A stiff thread that would work well for an upholstery fabric or a wall hanging might be entirely unsuitable for a soft blanket, a scarf or a wrap. Read your thread and yarn labels with the same care as you read the ones on your clothes, and wash and dry clean them according to the instructions.
Weaving threads differ vastly in cost and quality. A skein of acrylic yarn purchased for a bargain price at your local craft store might be fine for children to experiment with in a beginning weaving class. If you are a serious weaver, however, you should be prepared to pay more for a quality product. Remember to choose your weaving thread according whether you want it to perform as a warp or a filling yarn, and you will be free to explore all of the colors and textures that your fibers have to offer.
The basic principle of weaving is creating a pattern that interlocks threads that are perpendicular to one another.

Embroidery floss can be used as a filling thread.

Wool thread is typically very elastic.

Tapestry yarn can be made of wool, silk, linen, and cotton fiber.