How Do I Choose the Best Thanksgiving Appetizer?
Choosing a Thanksgiving appetizer is all about finding easy-to-make foods that please guests. The most important step is determining if any guests have dietary restrictions. If kids want to help with preparation, pick a recipe that's simple enough for them to put together. The amount of time each recipe takes to make is also a factor. Before settling on an appetizer, compare it to the others that are going to be served. Calculate the cost of the ingredients to ensure the final price is within budget.
The dietary restrictions of guests is the most important factor when choosing a Thanksgiving appetizer. For example, a guest might be a vegetarian or vegan or might have a severe allergy to nuts or seafood, so it's best to make an appetizer that all the guests are able to eat. Attach a notecard that states the ingredients in the dish to avoid any problems.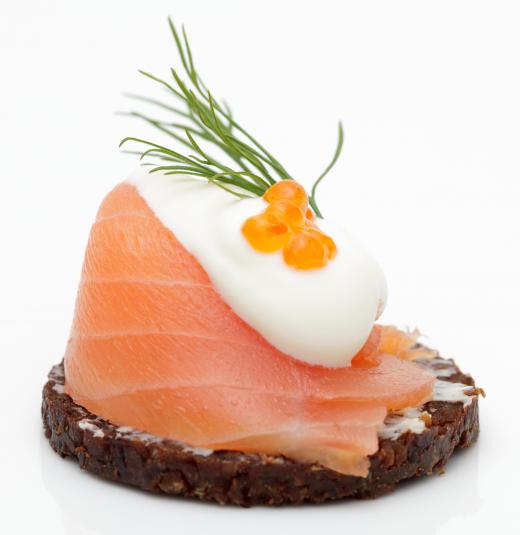 Many kids are anxious to get into the kitchen and whip up a dish, so choose a recipe for a Thanksgiving appetizer that a child is able to easily make. Some kid-friendly recipes include spinach dip, bacon-wrapped asparagus, and a tomato, basil, and mozzarella plate. The child will likely need supervision, but the recipes are basic enough to be completed quickly.
The amount of time each Thanksgiving appetizer takes to make is also a factor. Those who aren't going to have time to put something together the day of should consider recipes that can be made a day or two before, such as cheese sticks, cranberry salsa, or hummus. Some recipes that don't involve a lot of time but need to be made the same day include glazed cocktail meatballs, bruschetta with toasted French bread, and stuffed celery sticks.
Before settling on a Thanksgiving appetizer, compare it to the others that are already going to be there. Having a good variety is essential, so out of five appetizers, there shouldn't be four dips, three cheese-based recipes, or only meat options. There should be a balance among different types, such as having half of the appetizers include meat and the other half not.
Price is also going to be a big factor. Although most appetizers are budget-friendly, some can cost quite a bit more to make than others. Crab puffs, caviar with blinis, and baked oysters are going to be more expensive to make than deviled eggs, cheese balls, or stuffed mushrooms. Calculate the price of each ingredient for each recipe to come up with an option that's within budget.


An appetizer with cream cheese, tomato, olive, and basil.

Shrimp appetizers.

Salmon canapés with crème fraîche, caviar and dill.

By: martinlee

Cocktail meatballs.

By: Lsantilli

An antipasti platter.

By: Barbara Helgason

Cheese and crackers are a popular appetizer.

By: dreambigphotos

Spinach dip may be used as a Thanksgiving appetizer.

By: manyakotic

Stuffed mushrooms can be a relatively inexpensive Thanksgiving appetizer.

By: Casther

Appetizers made with caviar are a more expensive but tasteful addition to a thanksgiving day meal.

By: Betty Abrantes

Caviar on toast with crème fraîche and herbs.

By: Matthew Antonino

Broiled, bacon-wrapped scallops.

By: .shock

A selection of heavy hors d'oeuvres could be an elegant start to Thanksgiving dinner.