How do I Choose the Best Spy Walkie Talkies?
As you look for the best spy walkie talkies for your purposes, you should consider different aspects of such walkie talkies and various features you may want. Depending on the uses you are considering, you should consider the types of batteries required and whether the walkie talkies can be easily recharged. You may also want to consider the range at which your walkie talkies can easily communicate with each other, to ensure proper usage for your purposes. The best spy walkie talkies for your needs may also be easily concealed, such as a walkie talkie hidden as part of a wrist watch or one that uses an invisible earpiece to remain hidden.
Spy walkie talkies are communication devices that work like two-way radios and allow communication over fairly long distances. These types of walkie talkies are often designed for use in secret or for children to use while pretending to be spies. Their actual usage in spying may be somewhat questionable, especially as communication technology has advanced to more sophisticated levels. As you look for the best spy walkie talkies for your needs, you should think about what you want from your walkie talkies.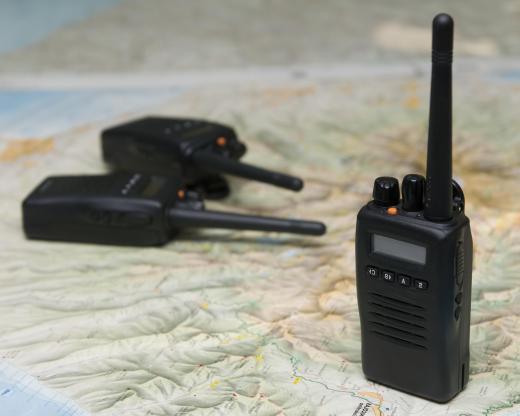 Two of the most important aspects of spy walkie talkies are their power source and range. You should look for walkie talkies that have at least four hours of battery life, though some have more than a day of use. Rechargeable walkie talkies are an excellent investment, since you will spend less money on batteries and can simply recharge them while not in use. You should be sure that any spy walkie talkies you choose will have a reasonably long range for your purposes. This can be anywhere from about half a mile (about 800 meters) to 20 miles (over 32 km) or more in distance.
You should also look for spy walkie talkies that can be used during some form of clandestine operation for purposes of secrecy while spying. This means you may want to find walkie talkies that work with a remote hearing device and microphone. You can find walkie talkies with earpieces, such as invisible earpieces or earbuds, as well as microphones that connect through a wire to the base device and can be hidden in clothing. There are also spy walkie talkies that are even more ingeniously concealed, such as eye glasses with microphones and ear pieces built into them as well as digital wrist watches that also function like walkie talkies.
AS FEATURED ON:
AS FEATURED ON:

By: Tandem

Walkie talkies may be used to communicate with others over long distances.

By: sonya etchison

Consider the range at which walkie talkies can communicate before buying.