How do I Choose the Best Portable Vacuum Cleaner?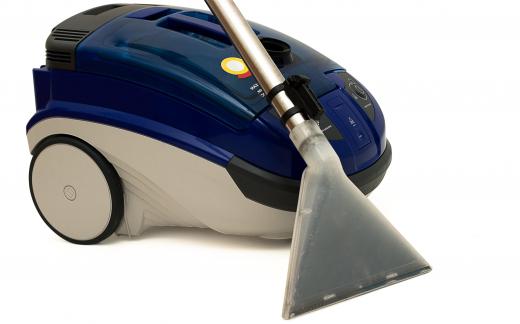 Since the designs, sizes, and suggested uses vary a great deal, choosing a portable vacuum cleaner depends on the intended purpose of the device. There are models available for numerous types of cleaning, from residential to commercial and industrial. There is something for everyone, from the homeowner looking for more efficient ways to keep the house tidy to the commercial cleaner who stakes his or her reputation, and livelihood, on performance.
Both the homeowner and the professional cleaner can benefit from a portable vacuum cleaner that helps them clean quickly and easily, yet thoroughly. A lightweight vacuum cleaner such as a "stick vacuum" is great for cleaning stairs in place of the bulkier models. Some stick vacuums also have the option of removing the long handle, doubling as a hand-held vacuum cleaner. A hand-held vacuum is handy for cleaning mini-blinds and other hard to reach items and is a good choice for both homes and offices.
While it seems that a commercial cleaning person might benefit most from a backpack vacuum cleaner, more and more homeowners are opting for these models. The main device is contained within a backpack-style compartment and uses a flexible hose. There are different styles, such as those worn like a regular backpack on the upper back, while others are worn near the hips. Such a portable vacuum cleaner is convenient and allows for much freer movement than a canister vacuum or upright.
If you're looking for a portable vacuum cleaner for your car, truck, or van, you may be able to find one that plugs into the cigarette lighter so you can avoid finding a near enough outlet or using a long extension cord. A car vacuum cleaner is also great for when you're on the go. A cordless vacuum cleaner is very handy for use in the car as well and will also work in a boat, camper, or other types of recreational vehicles.
Once you have narrowed down the main function and the style of portable vacuum cleaner you prefer, you can begin comparing different brands. Compare the guarantees and return policies, warranties if any, and other types of service agreements. Read consumer reviews. It's also important to find out if service centers are conveniently located, or if you'll be required to ship the device for maintenance or repair. Make sure parts are readily available if needed.
Compare prices as well as shipping and handling charges if applicable. Some brands offer a lot of "bells and whistles," or items that prove to be unnecessary and end up costing more. Armed with the above information, you'll be able to choose the best portable vacuum cleaner for you.


By: Supertrooper

A canister vacuum is one type of portable vacuum cleaner.

By: jackmicro

Handheld vacuum cleaners are a common type of portable vacuum cleaner.

By: aris sanjaya

Some portable vacuum cleaners may be plugged into a vehicle's cigarette lighter for power.