How do I Choose the Best Nearsighted Glasses?
If you are nearsighted and need new glasses, you should consider a few details before you choose. You will first need to decide on the frame material, such as plastic or metal. The style of your nearsighted glasses can be important, too, as the shape of your face, and your personal preference, usually factors in to this choice. Of course, the lenses of your nearsighted glasses are also important, and you can typically choose between plastic, glass, and similar materials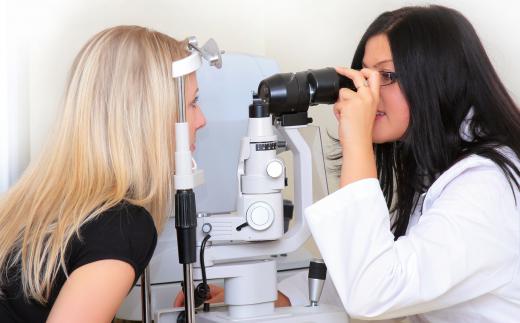 Before you choose the frame material, consider your lifestyle. For example, plastic frames are often known for the ability to withstand being dropped, but can snap in half when sat on or stepped on. If, on the other hand, you are athletic and need the glasses to stay on your face at all times, you may want to choose flexible metal frames, as these can bend to fit your face well. For a pair of nearsighted glasses that will not break easily, titanium may be your best bet, as this material is unlikely to snap or bend, even under pressure.
The appearance of the frames can be just as important as the durability of the material, as your glasses are one of the first details most people will notice about you. If you have an oval or round face shape, rectangular glasses are often the most flattering since they can bring out the angles in your face. On the other hand, square faces often look best with oval or round nearsighted glasses. Of course, the color and design of the frames can also be considered important, as these details can help reflect your style. Choose a shade that you like and wear often, so that you can typically match the glasses to your attire, and make sure the design is appropriate for work, as odd or wild styles may be overly distracting.
Another way to choose the best nearsighted glasses is to consider the lenses, though this choice often depends on your vision. For example, plastic lenses are thick and durable, and are usually best for those with mild or moderate vision correction. On the other hand, polycarbonate lenses are typically even more durable than the plastic kind because they are shatter-resistant while also being thinner, and are recommended for those with mild to moderate correction, as well. If you have a high amount of vision correction, high-index lenses may be best, as these are more powerful yet remarkably thin and light. Finally, glass is another possibility for lenses, but despite its scratch resistance, it is not very popular due to its heavy weight.


By: Nikolay Pozdeev

Nearsighted glasses.

By: daniel rajszczak

An eye exam by an optometrist can help determine the need for glasses.

By: auremar

Pick a frame that works with your face shape.

By: Innovated Captures

Strong prescription lenses made of glass can be too thick and heavy to be comfortable.