How do I Choose the Best Discount Bathroom Faucets?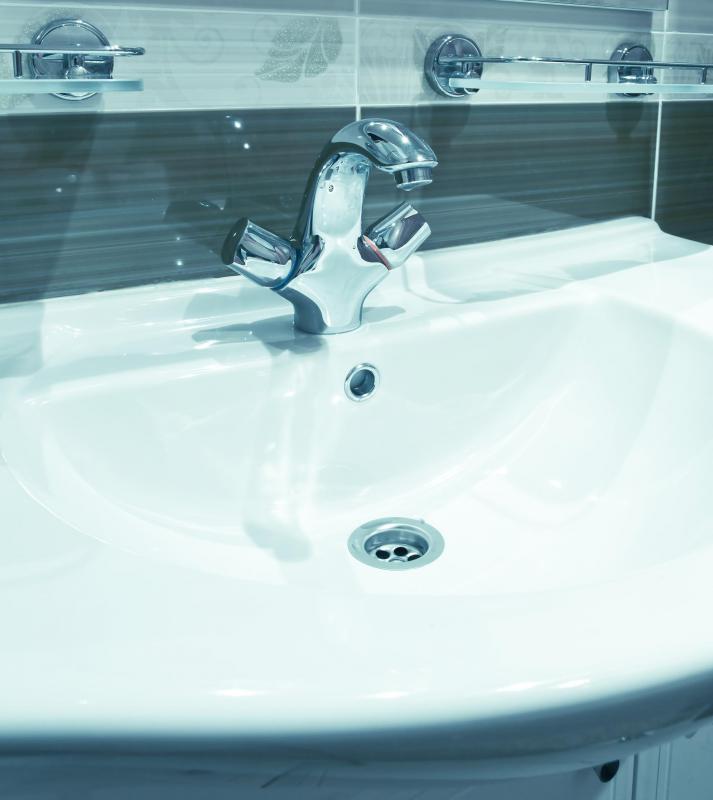 The key to purchasing discount bathroom faucets that will give years of satisfactory service is to focus on those characteristics that are most critical for the bathroom in which the faucets will be installed, and make sacrifices in areas that are less important. No discount faucet will be perfect. Some are made of less expensive materials, although still durable and functional. Others sacrifice features in order to minimize cost. In some cases closeout or odd lot models can be found for very reasonable prices, but in this case the consumer is limited to whatever stock is available.
Stylish modern bathrooms often feature faucets that are made out of special materials. When shopping for discount bathroom faucets, it is often best to avoid more expensive finishes, such as copper or oil-rubbed bronze. Basic contractor-grade faucets are most often manufactured with a simple chrome finish, and few if any frills. These faucets may not be much to look at, but they can be the perfect choice for homeowners looking to add a small second bathroom at a reasonable price. They are particularly well-suited for utility bathrooms in garages or off mud rooms where simple functionality is of paramount importance.
Faucets, especially those for use in bathtubs, are available with a wide variety of different features. Many of these features, such as additional shower options, are of little real interest to most homeowners. Simpler faucets are generally less expensive. Utilitarian, single-function shower heads are typically much less expensive than those that offer additional features, but are still perfectly adequate for most purposes.
Plumbing liquidators and overstock stores offer access to a different variety of discount bathroom faucets. Most cities have at least one retailer specializing in the odds and ends of the plumbing world. The selection of faucets available through such liquidation outlets is highly variable and some limit access to plumbing professionals, but in many cases, high-quality bathroom faucets in stylish materials are available for very reasonable prices, if a consumer is willing to purchase whatever faucets happen to be available. Of course, there is no guarantee that a retailer will carry matching discount bathroom faucets for sink and tub.
In some cases, faucets are inexpensive because they are made poorly, and out of low-quality materials. These faucets are rarely a good option. In some cases, inexpensive but poorly-made discount bathroom faucets can be used in very rarely-used spaces, but these faucets are much more likely to cause plumbing problems or require frequent replacement and should be used with great caution.
By: Vladitto

Basic faucets have a simple chrome finish with little to no frills.

By: sima

The most utilitarian faucets are usually the cheapest.

By: Yuriy Chertok

Single-function shower heads are typically cheaper than those with multiple settings and features.