How Do I Choose the Best Custom Wine Glasses?
Custom wine glasses are perfect for weddings, parties, gifts or any time you need a special, individualized touch. Choosing the best custom wine glasses is a matter of deciding what you need the glasses for and the kind of quality you want in the glass and design. There are many wholesale dealers who produce large quantities of custom wine glasses. If you want something handmade or need a smaller quantity, there are stores or artisans who can meet your needs.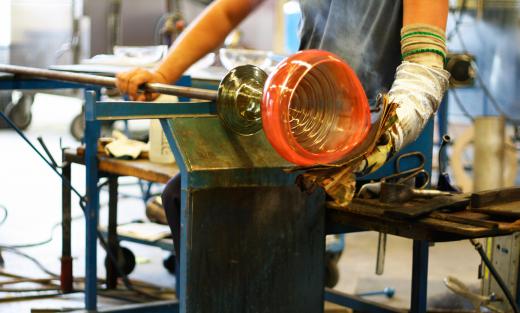 Choosing the material for your custom wine glasses is a good first step to take. For example, if you are going to use the glasses as a giveaway for customers of your business, or if they are for a large party with a special theme, you might consider plastic glasses. They are cheaper and can easily have designs drawn on, painted on or etched into them.
If you are going to give the custom wine glasses as a gift, then you might consider ones made of glass or crystal. You can have them monogrammed or painted with whatever you like. They will be more expensive than plastic but will last longer and are more elegant.
There are a wide variety of colors and designs from which to choose; you don't need to stick to a simple, clear wine glass. Many sellers offer a choice of colors for the glass itself or for the stem. Choosing a custom wine glass in a different color allows more choice in the design. If, for instance, you have a logo in white, you can choose a blue glass, made with either frosted or colored glass, which will highlight the design.
Many vendors who sell custom wine glasses specialize in bulk orders made on a production line, but there are also many who sell hand-painted custom wine glasses or even hand-blown glasses. They probably are the most expensive but have a very individualized style and are usually of good quality. If you want to go all out, you can choose a custom made glass with a custom design. There are just as many types of glasses, too, including the standard wine glass, goblets and more.
Shopping for custom wine glasses offers many choices. Buying them online is very easy and convenient, especially for larger orders. Glass shops, small vendors and artisans such as glass-blowers are good places to shop for glasses if you want to choose the brick-and-mortar route. With the choices available, finding a custom wine glass to meet your needs is limited only by your imagination.


By: Elenathewise

A custom wine glass.

By: Alexei Novikov

You can find original wine glasses by shopping from artisan glass blowers who make their own glasses.