How Do I Choose the Best Recycled Wine Glasses?
Recycled wine glasses have earned the attention of environmentally friendly wine connoisseurs worldwide. Typically made of recycled automotive glass, eco-friendly wine glasses can vary in color and texture, which only adds to the conversation shared over a glass of wine. Choosing the best glasses involves first determining the type of wine for which they will be used. Budget also is likely to play a role in your decision, and reusable plastic wine glasses made from recycled materials offer a low-budget alternative for eco-friendly wine parties.
When choosing wine glasses, one must consider the type of wine to be contained within the vessel. There are different types of wine glasses for red wines, white wines and champagne. Important design features such as the shape of the bowl, length of the stem, and thickness of the glass all play a role in how a wine tastes.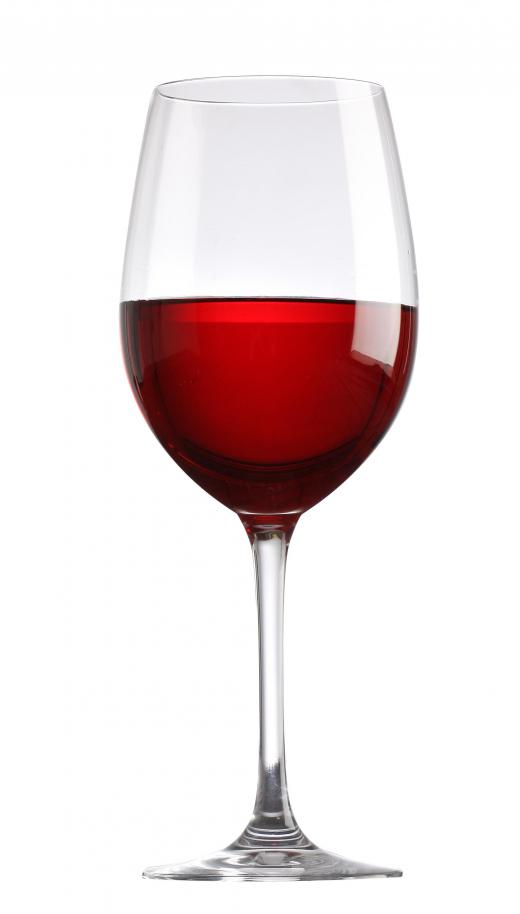 The design features on recycled wine glasses are somewhat limited when compared to crystal wine glasses. Recycled windshield glass doesn't lend itself to the thin, perfectly identical nature of traditional wine glasses. Rather, recycled wine glasses are thicker and rarely identical. Some manufacturers of recycled wine glasses have mastered the technology to the point that their products have become collectibles despite being thicker, less uniform creations than traditional wine glasses.
Arguably the most influential features of a wine glass are the rim and the bowl shape. The preferred design is a thin glass with a tapered rim that delivers a perfectly aerated sip of wine. As for bowl shape, the wider the opening, the more aerated the wine becomes. Generally, red wines are best in big, wide-open glass shapes and white wines are better suited to smaller glasses. Champagne is usually served in a cone-shaped flute to maximize the bubbly characteristics of the beverage.
A thin rim and proper bowl shape are hard to find among recycled wine glasses. Premium recycled wine glasses, however, can achieve the thinness and varied shapes most wine connoisseurs expect, because they are made from recycled wine bottles rather than automotive glass. Naturally, the cost goes up for a wine glass repurposed from a wine bottle as opposed to a windshield.
Beyond wine glasses made from recycled glass, plastic wine glasses also can be made from recycled materials. The plastic options are disposable, if so desired, and ideal for large parties and events such as a champagne toast at a wedding or wine tasting. For the avid wine drinker, the glass options are more economical and environmentally friendly.
Wine drinkers who choose recycled wine glasses often sacrifice design features. Many find it a worthy sacrifice to be part of a movement for a greener world. To go with recycled wine glasses, the green movement also has begun producing earth-friendly, organic wines.
AS FEATURED ON:
AS FEATURED ON:

By: Julián Rovagnati

Red wine is best served in a wide-open glass.

By: frisotop

Sparking white wine is typically served in a champagne flute.

By: elitravo

Plastic wine glasses made from recycled materials can be great for events that have a champagne toast.

By: Oleg Zhukov

A wine glass is designed to show off a wine's color, aroma, texture and flavor.