How Do I Choose the Best Blush Palette?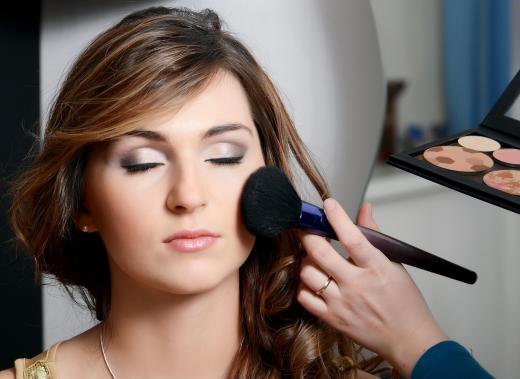 When choosing a blush palette, you should consider the colors of the blushes it contains, the quality of the blushes, and whether the set is a good value. Not all blush palettes are organized in the same way, so you should decide whether you want a blush palette made up of many different blush colors or complementary blush shades. Another factor is the quality of the palette case. You should select a blush palette that is sturdy and not likely to fall apart easily, particularly if you want the set for working as a professional makeup artist.
Blush palettes come in a variety of sizes. Some may include only two or three blushes, while others include dozens of colors. In addition, different types of blush, such as cream or powder, may be included in a palate. When deciding on which set to buy, you should think about whether you prefer cream or powder blush. Some palettes may contain both.

If choosing a blush palette that contains only two or three blushes, you may wish to choose a set in which each blush complements the other or serves a different purpose. For example, a small blush palette may contain a blush along with a highlighter or even a contour powder or bronzer. Larger blush sets may contain a greater variety of shades, but the shades may still come from the same color family. If you will be using the blush palette for your own needs, you may want to simply select a collection that best suits your complexion.
Cost is a significant issue when choosing any type of cosmetic kit or palette,. This is primarily because you may find that some of the colors included in your blush palette don't suit you and remain unused. An expensive palate may not be worth its cost if there are several blushes in the collection that you don't care for. In fact, you may find that it is less expensive to buy just the individual blushes that you like.
Carefully inspect the palette case. It should be made of durable material and should be easy to open and close. Ideally, the case should also include room for brushes and hopefully even includes these tools. If you anticipate carrying the palette with you, it should fit into your purse or traveling case. In addition, it is often helpful if the palate includes a mirror, which can often be handy during travel or when you are out and about.


By: Vladimir Voronin

Blush is a type of makeup that is often applied to the cheek area to enhance appearance.

By: Subbotina Anna

Blush colors should compliment the skin, so the best palette may vary based on individual tone.

By: phasinphoto

Blush usually ranges in color from pink to bronze.

By: micromonkey

The best blush palette for an individual depends on her particular skin tone.