How Do I Choose the Best Bedroom Ceiling Light?
Shopping for a bedroom ceiling light can be tedious task. You might not think that it would be a hard decision, but to get exactly what you want and what you need can be time consuming. When choosing a bedroom ceiling light, you should consider how much light you need in the room as well as your bedroom's design, décor, furniture and accents.
With so many choices available, finding the right bedroom ceiling light can be mind boggling. When choosing a bedroom ceiling light, you will need to first look at the color and style of the light fixture. If you want it to match the rest of your bedroom, you might need to go to a few stores to find just the right color, design or style. If this is not an issue, you will have a wider variety from which to choose. Most styles of ceiling lights are either colored, white or a metal tone, such as silver, copper or gold.
A bedroom ceiling light that has a two- or three-bulb capability works best in the bedroom. This gives off enough light so that the room's occupants can dress and groom themselves with adequate lighting. It also will provide enough light to read by in bed at night. Additional lighting might be preferred, such as a lamp on the nightstand next to the bed. You also might consider different styles of lighting, such as track lighting or a hanging light.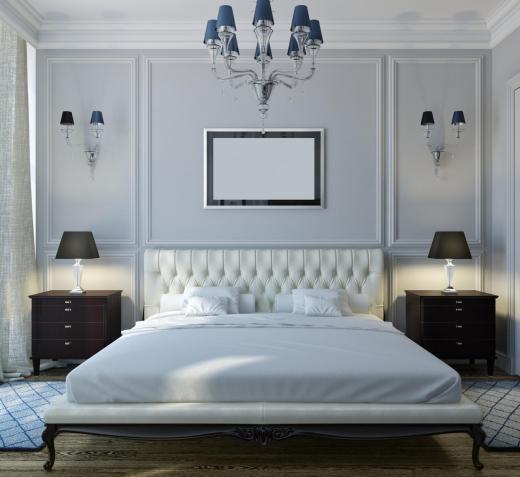 Ceiling fans with lights are very popular for bedrooms. These types of bedroom ceiling lights complement the bedroom décor and can be used to cool the room as well. There are ceiling fans for the bedroom with lights that can be dimmed as well to provide a soft glow in the evening. You will find ceiling fan lights in several colors and styles, including a wood finish that will match most types of wood bedroom furniture.
AS FEATURED ON:
AS FEATURED ON:

By: Lisa F. Young

If someone likes to read in bed at night, make sure to install a fixture that provides enough light.

By: sowanna

Small chandeliers and matching wall lighting can be used in modern bedroom layouts.

By: xy

The decor or a bedroom should be considered when choosing a ceiling light.