How do I Become an Exhibition Designer?
A person who wants to become an exhibition designer will need a college education in design or a related field, along with job experience. It is possible to become an exhibition designer without going to college, but it will take much longer, and some job opportunities may not be available because of degree requirements. Jobs in this field can be found at museums, galleries, zoological parks, and companies that specialize in building exhibits for conferences and expositions. The pay can vary depending on skill level and the type of work a person does.
Exhibition designers need several different sets of skills to do their job well. They need good aesthetics and the ability to design and create an exhibition with visual interest that fits well with what they are displaying; a Holocaust exhibition, for example, is not a suitable location for bold colors and cartoon figures. They also need practical design skills, the ability to create physical models and work in software programs to develop plans for a full-scale exhibit. Additionally, they need training in an area of interest so they can make informative and useful exhibits.
A person who plans to become an exhibition designer should plan on taking art and design courses in college. If a school offers a degree program in art history, exhibition design, curation, or related fields, it can be a good idea to pursue that degree. At the same time, people should pursue training in their area of interest. People who want to make informative displays at zoos need training in biology, wildlife management, and related areas. Someone who wants to work on exhibits at a museum needs a history degree.
A prospective exhibition designer may want to consider applying to a master's in exhibition design program to receive the best possible training while working to become an exhibition designer. Such programs provide people with advanced skills as well as access to internships and job opportunities that may not be available to the general public. Students with an interest in things like trade show and exposition design, for example, may be able to work with designers for major events to learn more about the mechanics of the work and get valuable portfolio credits.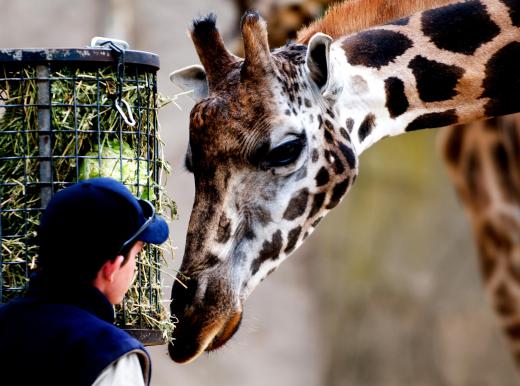 While students are in school, they should start building up an exhibition design portfolio and may want to take advantage of internship and job opportunities. After graduation, the portfolio is key for a person who wants to become an exhibition designer. On-the-job training is an important part of the work, and as people take on more responsibilities and start designing their own exhibits, they will have portfolio items to add, increasing their employability.
AS FEATURED ON:
AS FEATURED ON:

By: markrhiggins

An exhibit designer is responsibe for the layout and display of individual exhibits.

By: FER737NG

Exhibition designers must make sure the tone of items does not distract from their educational purpose.

By: fotoliamemberN

Exhibition designers might work with zoos to create informative displays.