How do I Become a Robotics Engineer?
If you want to become a robotics engineer in the United States, you should plan to obtain at least a bachelor's degree in an engineering discipline. The most popular engineering majors for people who want to work with robotics include electronic, mechanical, and industrial engineering. You might even be able to find a college or university offering a robotic engineering major, as this is considered to be a rapidly developing career field.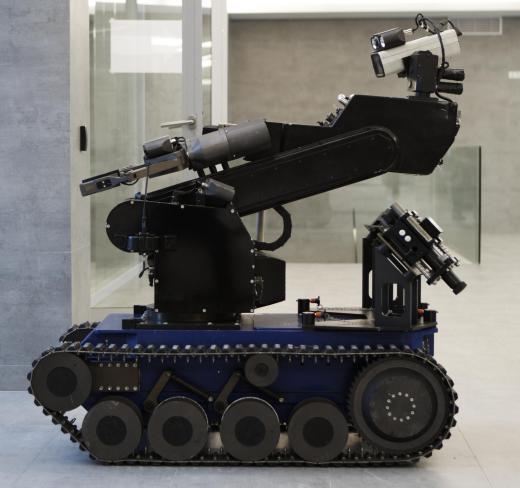 For the most part, a bachelor's degree is likely to only get you an entry level position in robotics. If you aspire to higher ranking positions, you may want to pursue an advanced degree, such as a master's in a related field. If you are planning to become a robotics engineer, but you also have an interest in obtaining a management position, you could consider getting a Master's in Business Administration (MBA) to go along with your bachelor's degree in engineering.
To achieve success in this very competitive field, it may be beneficial for you to also have a background working with computers. If you have some work or educational experience in computer science, it could go a long way toward helping you to find the type of job you seek. To become a robotics engineer and be a sought-after candidate, you may want to become familiar with the role that robotics plays in many manufacturing environments. The automated systems that these types of companies use often require a unique understanding of production needs, as well as the manufacturing process. If you obtain training or education in this area, it could prove to be quite helpful to you as your career progresses.
One of the best ways to find a job as a robotics engineer is to seek assistance from your college. Most schools have job placement or career guidance counseling services that are available to students. Your adviser should be able to help you locate job opportunities and interviews to help you become a robotics engineer. This type of assistance may prove to be invaluable in this type of highly competitive career field.
As you plan for your career in robotics, you should be aware that your work environment could be in a laboratory, office, or manufacturing facility. Manufacturing facilities tend to be rather noisy, so it could be helpful if you are able to adapt to that type of environment. You might also be expected to work both independently and as a part of a team. If you have the skills and temperament to be productive regardless of whether you are working with someone else or not, it may help you to be successful.


By: computer engineer

Robots working on an automobile assembly line.

By: chalabala

Robotics engineers may specialize in developing robots that can defuse bombs or carry weapons for police and military forces.

By: corepics

Many robotics engineers work in the manufacturing industry.