How Do I Become a Heavy Equipment Mover?
To become a heavy equipment operator, you may have to spend several years as an apprentice before being hired as a full-time employee. Although postsecondary education is not usually required, most employers look for candidates with a high school diploma or the equivalent. You must also be at least 18 years of age to be considered for this job. The job involves loading and unloading heavy equipment using powerful machinery and all prospective heavy equipment operators must be able to pass a stringent physical exam as well as a written examination and skills test.
If you wish to become a heavy equipment mover, you will be responsible for the transportation of heavy machinery and other materials. The services of heavy equipment movers are required in a number of industries including construction and demolition. Depending on the employer, applicants may have to train as apprentices before securing full-time employment. Licensing requirements vary from nation to nation, and there is also the option of attaining certification on a voluntary basis.
In the United States, a heavy equipment mover is often known as a crane and tower operator. The vast majority of people employed in this vocation find employment in the manufacturing industry, but shipping ports, building companies, and railroad organizations are also seek the services of qualified heavy equipment movers.
If you are hoping to become a heavy equipment mover, be prepared to undergo an examination of your strength, hand-eye coordination, and spatial perception. These are necessary requirements for anyone looking to become a heavy equipment mover because the job is physically demanding. In most countries, you cannot become a heavy equipment mover unless you are at least 18 years of age.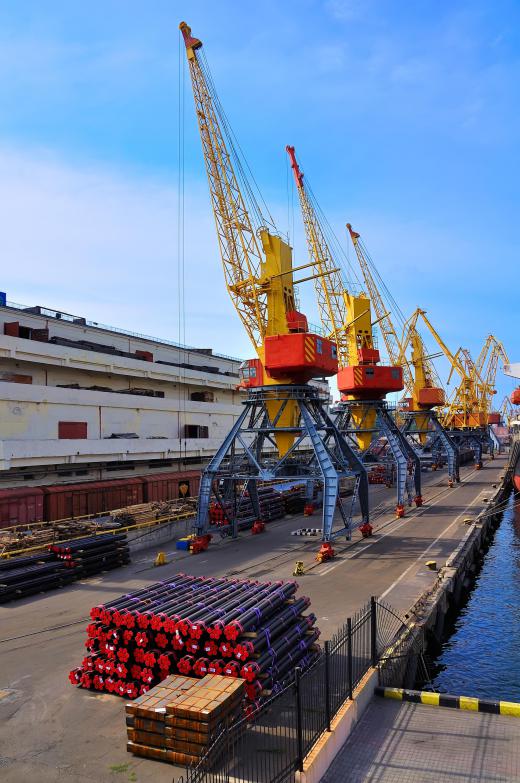 As part of the job may involve the operation of machinery such as cranes, you are likely to be asked to complete a skills and written examination. In some countries, a company will not hire you unless you achieve certification in this manner. In addition, you might not be allowed to become a heavy equipment mover until you work as an apprentice for a minimum of three years.
If you become a heavy equipment mover, you will be responsible for ensuring that machines never become overloaded. This is achieved by comparing the weight of the load to the capacity of the machine being used. Good heavy machinery skills are required as you will be loading and unloading heavy equipment from trucks, rail cars, and ships. You may also be asked to inspect parts, cleaning or replacing them whenever necessary.
AS FEATURED ON:
AS FEATURED ON:

By: Bailey:Image

A loader crane is used to load materials on and off of a truck.

By: vetkit

A heavy equipment mover might use cranes.

By: Kadmy

Heavy equipment movers in the U.S. must pass certain exams.