How Do I Become a Fire Investigator?
There are several career paths available for a person who wants to become a fire investigator. One option is to work through the ranks of a fire department to acquire practical skills. Another way is to receive formal training at a fire investigator academy or academic institution. Other investigators apply to law enforcement agencies that send them out for training in fire investigation. The best path to take depends on where an investigator wants to work, and what kinds of investigations she wants to work on.
A firefighter can become a fire investigator by attending a fire academy or working through the ranks of a volunteer fire department. This will provide on-the-job experience in fighting fires. Along the way, firefighters also start to learn about fire investigation so they can track down the origins and causes of the fires they work on. A trained firefighter may pursue continuing education in fire investigation to acquire additional skills, and in some regions may apply to become a sworn law enforcement officer with the capacity to investigate fires and assist in court.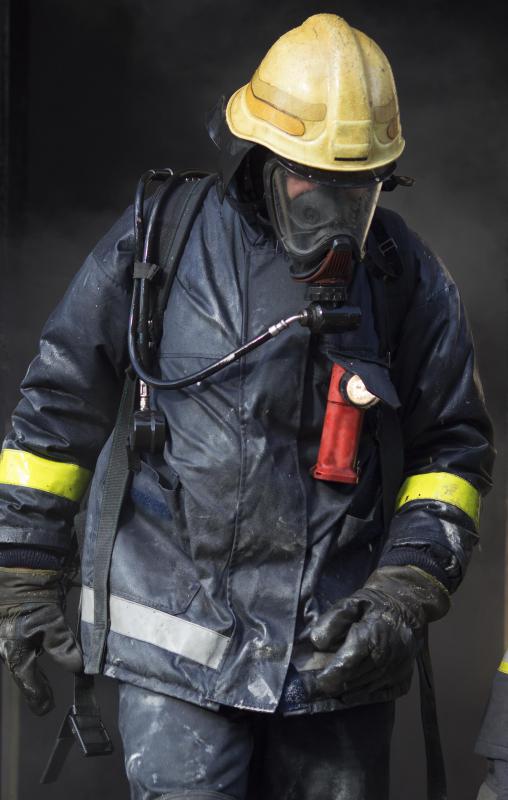 Academies are available to fire investigator trainees. The academy will offer education in how to research fires and will provide criminal justice training. This training can be important, as it will show a person who wants to become a fire investigator how to conduct investigations, collect forensic evidence, and maintain a chain of custody so that evidence will be legally allowable in court. Firefighters tend to focus on getting the fire out and may not be familiar with evidence handling, while an academy trainee can preserve evidence while remaining safe in a fire or investigation after a fire has gone out.
Advanced degrees in fields like engineering and chemistry can be useful for some fire investigators, as can training in contracting, electrical systems, and so forth. A person who plans to become a fire investigator can come from this kind of educational background instead of a background in firefighting. He will need to acquire some additional skills to learn how to work safely on investigations.
Another option to become a fire investigator is to join a law enforcement agency and pursue training in fire investigation through the agency. The agency may send personnel to academies and training seminars and can also offer on-the-job experience. As the trainee works her way through the ranks, she will eventually be able to supervise investigations and may become a chief investigator. This kind of experience can be valuable for people who plan to work in the insurance industry, as insurance companies want highly trained agents to represent their interests when they investigate claims associated with fires.