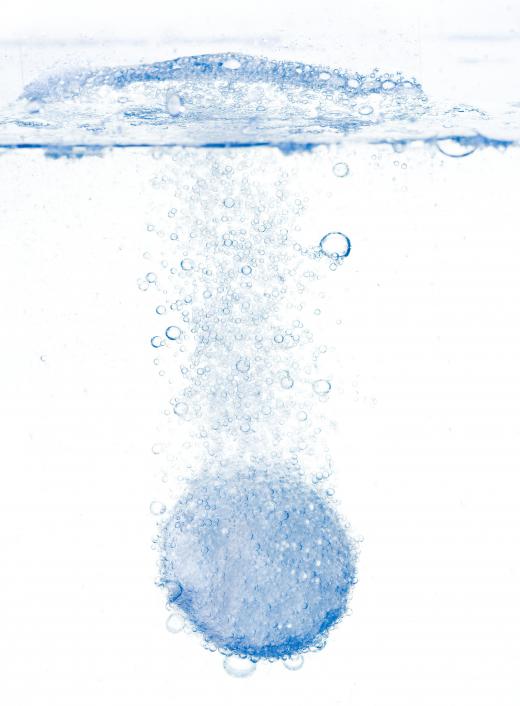 Antacids increase the pH level in the stomach to reduce the heartburn, indigestion and acid reflux associated with an acidic stomach. There are four main antacid types used to raise pH levels. Although safe, the main ingredient used in each type of antacid can cause health problems for people with high blood pressure, kidney issues or bone disease. Using this remedy sparingly will ensure a person suffering from an acidic stomach will not incur additional health problems or stomach issues.
A sodium-based antacid uses sodium bicarbonate to neutralize stomach acid. The sodium used in this type of antacid neutralizes acid quickly but increases blood pressure and should be avoided by people with high blood pressure or a heart condition. High blood pressure-prone people should consult with a physician before taking any over-the-counter sodium-based antacids. Three other ingredients are used that are safe for people with high blood pressure, but can cause other potentially dangerous health problems if used excessively.
Calcium-based antacids are safe for use by people with high blood pressure but can have adverse affects for people prone to kidney stones or people that suffer with constipation issues. Either calcium carbonate or calcium phosphate provides the neutralizing power for calcium-based antacids. Both are equally effective in neutralizing stomach acid; in large doses or with frequent use, the calcium will cause kidney stones or constipation when used regularly over a shorter time span. In extreme cases, the calcium can clog the kidneys to the point that blood cannot circulate correctly, which may cause the kidneys to shut down. Another type of antacid safe for high blood pressure uses a different ingredient that affects a person's kidneys and bones.
Aluminum-based antacids also cause kidney stones and constipation but have additional side effects that can weaken bones and cause vital nutrients to leave the taker's body. Unlike antacid types, aluminum-based antacids have shown to be safe for individuals with normal kidney function unless the aluminum-based antacid contains magnesium salts. This combination can cause blood pressure to drop, so people with low blood pressure should avoid this combination in an antacid. All antacid types containing aluminum should be avoided by people suffering from osteoporosis, as the aluminum removes calcium from their bodies.


By: Blue Lemon Photo

An antacid.

By: airborne77

In large doses, the calcium in antacids can cause kidney stones.

By: LoloStock

Antacids can be taken to help relieve sour stomach.