How can I Shave my Beard Without Getting Ingrown Hairs?
For anyone who has gone through the experience of shaving, ingrown hairs are some of the most annoying obstacles to smooth, hair-free skin. Both men and women shave, either for hygiene or for cosmetic reasons, and any part of the body that grows hair can be shaved and is susceptible to this problem. For men, however, shaving the beard requires extra care because the hairs grow on the face. Hair in the beard area can often become ingrown, and make it harder for the man to shave the next time. Although the face can be a more problematic area, it is possible to reduce ingrown hairs.
An ingrown hair is a hair that curls back and grows into the skin, causing inflammation at the point of penetration. Dead skin cells may then accumulate around the irritated area, forming a papule. A papule, also known as a razor bump, is a small, raised abnormality that marks the site of the hair.
An ingrown hair may be caused either by the beard hairs themselves or improper shaving technique. Stiff and curly beard hair is more likely to grow into the skin. In addition, shaving too close to the skin with a blade may irritate it. Genetics may dictate how easily shaving causes ingrown hairs. Men with pores that easily trap dirt and oil, and men with sensitive hair follicles are more likely to get them as well.
From the outside, the beard area of a man with many ingrown hairs simply looks like very lumpy skin. It is actually lumpy skin that is tender, painful, and itchy, however. Pustules have the potential of becoming infected, resulting in rupture and bleeding. In chronic cases, many ruptures may leave the skin with hard, irregular scar tissue.
One of the most popular pieces of advice for avoiding ingrown hairs is to gently exfoliate the skin, which eliminates dead skin cells, loosens the tips of the hair, and clears out the hair follicles. First, wet a sponge or loofah with some warm water, then squeeze the excess water out and gently massage the skin in a circular motion with it.
You may also choose to treat razor bumps. Salicylic acid is an active component of skincare formulas proven to visibly improve razor bumps. Try to avoid products with alcohol, which dries the skin and closes the pores, increasing the possibility of trapped hairs. If you already have hairs that are ingrown, cautiously lift the ends out with tweezers without plucking the hair. Then reduce any redness on the skin surface with products that contain witch hazel, azulene, and allantoin.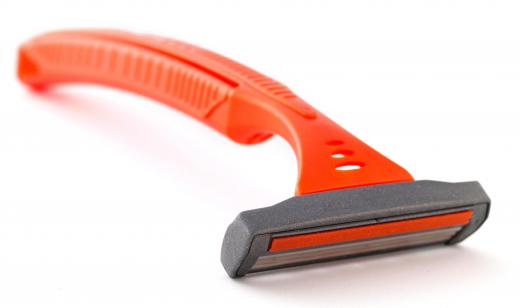 Once your skin has been introduced to a healthier regimen, help prevent future problems by buying a quality razor and keeping its blade sharp. Then adjust your shaving technique. Avoid pulling at the skin or applying too much pressure to the blade. Shave along the direction of beard growth. By maintaining this approach over time, you are much less likely to have problems with ingrown hair.
AS FEATURED ON:
AS FEATURED ON:

By: Ruslan Solntsev

Shave in the direction of hair growth to avoid getting ingrown hairs.

By: dandesign86

A man growing a beard.

By: Africa Studio

Exfoliating with a wet sponge or loofah may help prevent ingrown hairs.

By: ramonespelt

One way to avoid ingrown hairs is by investing in a good razor with a sharp blade.

By: dianamower

Products containing witch hazel can help reduce redness from ingrown hairs.

By: Photographee.eu

Ingrown hair bumps can be removed by plucking the ingrown hair with a clean pair of tweezers.

By: F.C.G.

Ingrown hairs can be caused by improper shaving techniques.