How can I Help Limit the Spread of MRSA? (with pictures)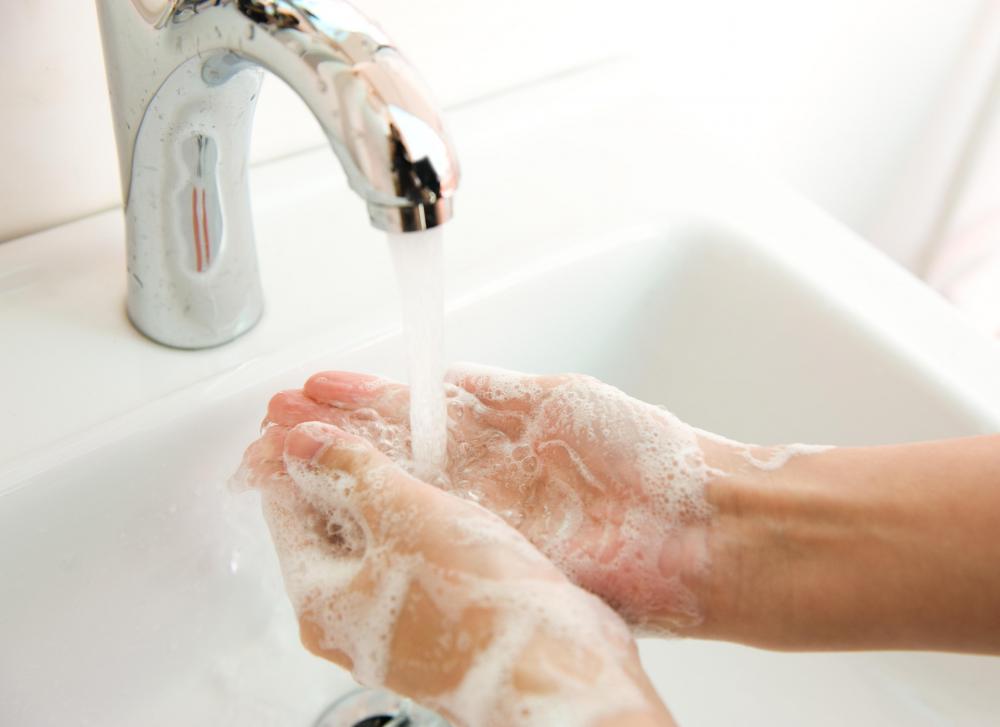 Methicillin-resistant Staphylococcus aureus (MRSA) is a potentially deadly infection caused by bacteria resistant to most antibiotics. Fortunately, there are ways to limit the spread of MRSA infections. They involve frequent hand washing; avoiding the sharing of towels and other personal items; and keeping wounds protected. If you are involved in sports, showering after games; washing sports clothing between uses; and wearing shoes in locker rooms and shower shoes in community showers may help. You may also do well to wash your sheets and towels in hot water with bleach when you have a wound, even if it appears to be minor.
One of the best ways to limit the spread of MRSA is also the simplest: hand washing. Proper hand washing may not only help to prevent you from developing MRSA, but may also help stop it from spreading to others. To wash your hands properly, you'll typically need to use soap and running water. Many experts recommend that you scrub your hands for at least 15 seconds before rinsing the soap off and using a paper towel to dry them. Hand sanitizer that contains alcohol may be the next best thing when soap and water aren't available.
It is also important to keep your wounds protected as you attempt to limit the spread of MRSA. Generally, cuts and sores should be covered with sterile bandages. This may help to keep infection-causing bacteria from getting into them. Additionally, it is possible that fluids that drain from an infected sore may help MRSA to spread. Keeping it covered may prevent this.
Limiting the spread of MRSA also involves keeping your personal items clean and to yourself. Washing your towels and bed linens frequently may help to prevent its spread, especially when you have a sore, cut, or abrasion. You may do well to wash them using hot water and bleach, and then follow up by drying them in a hot dryer. Beyond keeping these things clean, it is also important to avoid sharing personal items such as towels; combs and brushes; clothing and shoes.
If you participate in sports activities, you may limit the spread of MRSA by showering after each game or practice. You may also do well to wear shoes of some type both in the locker room and in the locker room shower. Many health experts warn against sharing athletic equipment as well. Additionally, washing your sports uniforms or other apparel after each time you wear them may also prove helpful for preventing the spread of this infection.
Frequent hand washing can help prevent a MRSA infection.

Hand sanitizer is good to use to avoid the spread of MRSA, especially when washing the hands isn't possible.

Most hospitals sanitize their beds between patients to reduce the chances of MRSA infection.