The close association between sugar intake and diabetes has led to a few misconceptions about diabetics and their diet restrictions. Most people who have diabetes can eat the same foods as those who do not have the disease, but the question becomes how much and how often. Diabetics can indeed eat fruit and, in fact, are strongly encouraged to choose fruit over processed foods that are high in sugars and other carbohydrates. Fruit contains natural fiber, vitamins, enzymes and other essential nutrients that diabetics need to maintain a normal lifestyle.
Diabetes and Blood Sugar
The assumption that fruit can be dangerous for people who have diabetes stems from the relationship between sugars and insulin levels. Insulin transports blood glucose — or blood sugar — to the cells, where it is stored as glycogen that can be used as fuel. Many diabetics' bodies cannot produce enough natural insulin to handle a high amount of sugars or carbohydrates, which are broken down into glucose, at one time. Diabetic menus take into account the relative amount of sugars and carbohydrates that are present in foods, also known as a glycemic index (GI).
Types of Fruit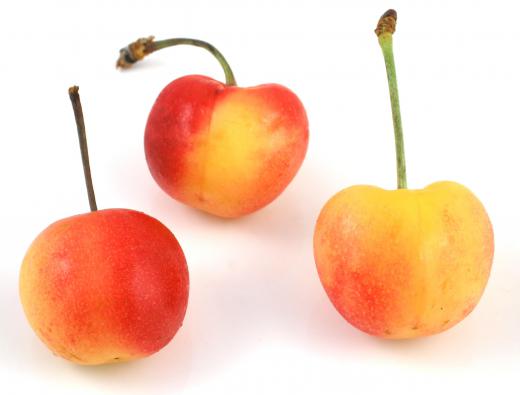 The majority of common fruits have low to medium GI scores, which means that most diabetics can safely metabolize the fruit sugars through natural insulin production. Some fruits that have low GI scores include apples, strawberries, pears, cherries and plums. A few fruits, such as dried dates and watermelons, are relatively high on the glycemic index, but they can still be eaten in moderation. Many fruit juices, especially those made from concentrate, also are high on the glycemic index and should be consumed in moderation.
Portion Sizes
The key to eating fruit on a diabetic diet is to eat the proper portion sizes. Many experts say that any type of fruit can be eaten, as long as the portion size provides no more than about 0.5 ounces (15 g) of carbohydrates. That would be about half a banana, one handful of fresh raspberries or two spoonfuls of raisins, for example. Diabetics also should not eat too much fruit within a short period of time, but should spread out fruit consumption over the course of a day. Eating too much sweet fruit at once could be problematic for insulin-dependent diabetics, but in general, most fruits should not create a dangerous spike in blood sugar levels.
Fiber is Important
Fruits such as apples and oranges provide fiber as well as fructose or fruit sugar. It can be a challenge for people who have diabetes to get enough fiber in their diets, because many foods that are high in natural fiber might also be high in starch, sugar or other high-glycemic ingredients. Fruit can also satisfy diabetics' cravings for processed sweets such as doughnuts and cakes. A handful of grapes or a medium-size apple between meals can help a diabetic maintain his or her blood sugar level without creating a sudden spike that can overwhelm an already overworked insulin-producing pancreas.
AS FEATURED ON:
AS FEATURED ON:

By: tesgro

Most diabetics can safely metabolize the sugar in apples, so they should be safe to eat.

By: Harris Shiffman

Diabetics can usually safely eat cherries, but they should be eaten in moderation.

By: Lana Langlois

Fruits such as pears have low GI scores.

By: volff

Plums have low GI scores.

By: BigDreamStudio

Two spoonfuls is an acceptable amount of raisins for a diabetic to eat.