Miscellaneous
Fact Checked
What Should I Know About Baby Shower Etiquette?
The rules of baby shower etiquette are similar to those of general etiquette, but there are a few special considerations surrounding a baby shower which are important to think about and be aware of. The critical thing to remember about a baby shower is that the goal of the event is to celebrate a coming birth, not to ask for money and presents, although it is traditional baby shower etiquette to bring gifts to a baby shower and to hold a present opening ceremony.
Usually, a baby shower is only held for a couple's first child, who may be biological or adopted. Some people like to hold a shower for each baby, which is certainly acceptable, but showers after the first birth should be gift-free. By tradition, the host is a friend of the expecting couple, rather than a member of the family, and the baby shower may be held at the friend's home, at the home of the couple, or at a rented facility. Baby showers can be held before and after a birth, and they usually feature party favors and games for the guests, along with food.
While baby shower etiquette stresses the fact that baby showers are not meant to be begging parties, many expecting couples greatly appreciate baby related gifts, like subscriptions to diaper services, cribs, strollers, diapers, onesies, bottles, teething rings, and other supplies. It has become common for the mother to establish a gift registry so that guests can buy things which the mother actually needs and will appreciate, and so that duplicate items are not purchased, but guests should not feel obliged to stick to the registry when they choose gifts. Asking for gifts of cash or a "money tree" is not appropriate, although people may choose to bring cash or gift certificates to the shower.
Guests at a baby shower should follow the guidelines set by the host in the invitation. Responsible hosts will indicate the location and time of the baby shower, along with whether or not it is appropriate to bring children or men to the shower. Guests should expect to stay for around two hours, and they should be prepared with a small present for the expecting mother, and in the case of mothers expecting multiples, it is not necessary to purchase a gift for each baby. Guests should also expect to participate in games, many of which will have a baby-related theme, and to sit through the opening of the gifts.
Hosts at a baby shower should prepare invitations well in advance, ensuring that everyone is notified. It is polite to send notes to distant relatives so that they are aware of the event, even if they cannot attend. The host should plan at least three games which will include all of the guests, along with food and party favors. In some cases, multiple baby showers may be planned for the same woman, although only one is required, and some people like to coordinate, throwing a joint baby shower with coworkers and friends or others who want to celebrate the birth. It is also perfectly acceptable to indicate "no gifts, please" on the invitation for a shower which will not include presents.
Pregnancy loss is a touchy subject in baby shower etiquette. In the case of people who have recently experienced pregnancy loss, receiving an invitation to a baby shower can be very upsetting. Others are happy to attend baby showers, and they would be hurt to be omitted from the guest list. Rather than making any assumptions, a friend of the bereaved should be contacted to find out whether or not she would appreciate an invitation.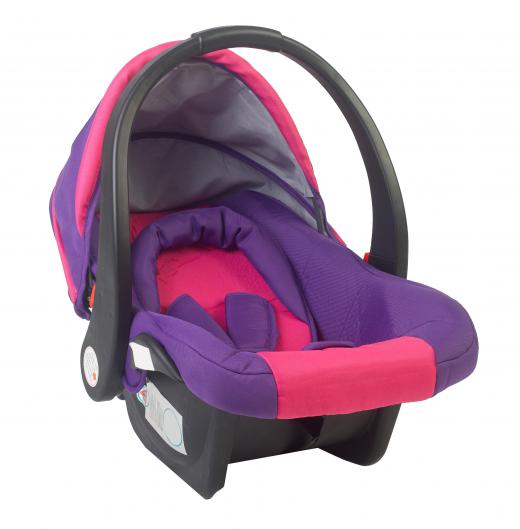 The guest of honor at a baby shower should not be pushed about the name, gender, or religious upbringing of the baby. After the party, she should send a note of thanks to the host, expressing appreciation for the organization of the baby shower, and a note of thanks should be sent to everyone who attended, specifically referencing any gifts which were given. Wise hosts may want to recruit a family member such as a husband to note down everyone's name and take notes about who gave which present, to make this part of baby shower etiquette easier.
Guests of honor would be well-advised to remember that every gift requires an equal expression of delight, no matter how strange or distasteful it might seem.
AS FEATURED ON:
AS FEATURED ON:

By: Pamela Uyttendaele

Simple gifts, like teething rings, are appreciated at a baby shower.

By: biker3

Close friends typically are responsible for throwing a baby shower for a mom to be.

By: fotopak

The mother to be may send out thank you notes to attendees following a baby shower.

By: sherrie

Moms to be might enjoy gifts that can help them relax.

By: ramzi hachicho

Mothers-to-be often appreciate useful gifts, like car seats.

By: Scott Griessel

Baby clothes are a popular gift given to the mother-to-be during a baby shower.