What Should I do When Visiting Cozumel, Mexico?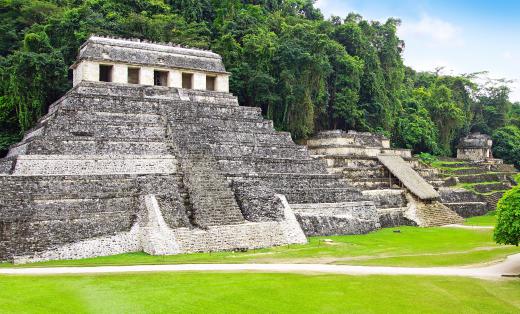 What you should do when visiting Cozumel — Mexico's largest inhabited island — will largely depend on the types of activities you prefer. There are plenty of attractions to match very different styles, so you're likely to find things that will excite you, no matter what your preferred activities are.
You can tour the island on foot, horseback, ATV, taxi, or by jeep. If you like being in or on the water, Cozumel has a wide array of choices. The simplest answer is: go to the beach. Scuba and snorkel gear are available to rent and there are reefs and shipwrecks to explore. If you're looking for a more organized activity, there are fishing and diving charters that take you out on the water with professional support. offers professional guidance for scuba diving, while sail boat rentals are also available. Kite-boarding, kayaking, and your own catamaran party are other opportunities.
Dolphin Discovery, located in Chankanaab National Park, provides the opportunity to swim with Dolphins in their natural habitat, with, on the one hand, encounters arranged in shallow waters for children or, on the other hand, including a belly-ride.
Mayan ruins are another attraction of Cozumel. There are over 35 archaeological sites, although not all are accessible. Some of the ones more often visited include Castillo Real, El Caracol, El Cedral, and the San Gervasio Ruins. Museo de Cozumel is a museum to help visitors understand the islands history, geography and flora and fauna. The wildlife on the island of Cozumel is worthy of attention, too. Here you can find macaws, iguanas, crocodiles, boas, raccoon, coatis, martuchas, giant sea turtles, and sea lions and botanical gardens.
Sunday night celebrations in the Cozumel town square are suitable for the whole family. There is dancing, entertainers, and items for sale. Miniature golf, an aquarium, and themed entertainment parks are also available for family excursions. Stores offer souvenirs with a range of choices including pottery, jewelry, and other artwork. Adults can learn the process of tequila production, with tastes included. Also available are pub tours and an 18-hole gold course designed by Jack Nicklaus.


By: photlook

People on vacation in Cozumel might want to visit some of the ancient Mayan ruins.

By: stuporter

Crocodiles can be found in Cozumel.

By: crisod

Swimming with dolphins can be done in Cozumel, Mexico.

By: Iuliia Sokolovska

Cozumel is a great place for snorkeling.

By: Serhiy Shullye

Cozumel offers the chance to learn about tequila production, with tastes included for adults.

By: Lars Christensen

Raccoons are part of the collection of wildlife that can be seen in Cozumel.

By: mauvries

Iguanas may be spotted sunning themselves on a rock in Cozumel.

By: jamdesign

People may enjoy watching the exotic birds that live in Cozumel.

By: karelnoppe

Cozumel is a popular spot for spring breakers.