What is Whitening Moisturizer?
Whitening moisturizer is a beauty product that is used to make the skin on the face appear to be lighter in color. It is particularly common in the Asian market, but can also be found in skin-care product lines that are distributed and marketed in the west. In addition to lightening the skin on the face in general, whitening moisturizer is also sometimes used to help reduce uneven pigmentation in the skin. It is sometimes used to help reduce the appearance of freckles or dark scars that are the result of acne.
It is common for skin-care companies that distribute their products internationally to adjust their product lines for different markets. Some large skin-care companies that sell whitening moisturizer only sell it in Asia and do not distribute this product in the lines that they sell in the west. Although it is less common to find whitening moisturizer in the west than in Asia, it is not impossible to procure it from retailers in the region.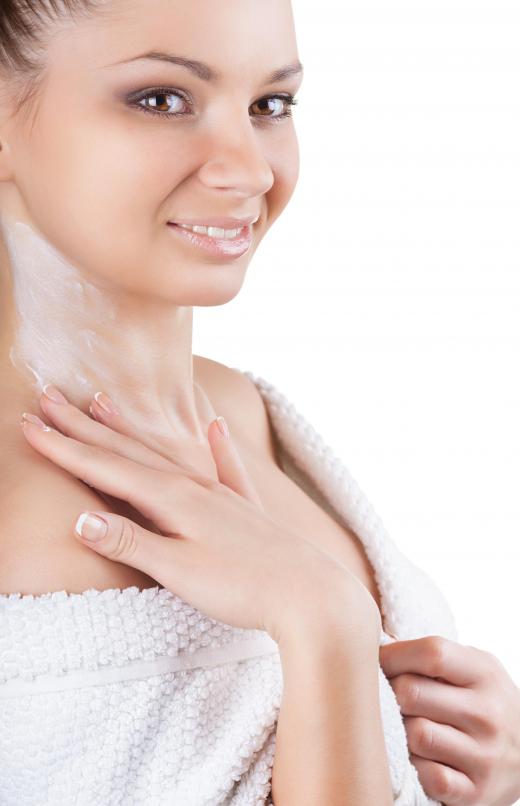 There are a number of forms of whitening moisturizer. There is one version that is formulated for general daily wear and can be worn under makeup. There is also a version that is formulated along with foundation so that it is already blended with the base level of cosmetic. There are also types of whitening moisturizer that are intended for use overnight.
There are some products that are similar to whitening moisturizers that are concentrated serums. These products are intended for application on specific patches of skin that are more deeply pigmented than the rest of the skin. An area that has been more deeply damaged by the sun, for example, may be treated with this kind of product. It is common for such serums to be sold alongside whitening serums in skin care product lines.
Some of the most common natural ingredients that are included in whitening moisturizer are Vitamin C, licorice extract, and shiso. Shiso is a product that is derived from perilla, a plant that is part of the mint family. Some products also make use of chemical and synthetic ingredients.
In some circles, whitening moisturizer is a controversial product because of the implications of a desire to lighten one's skin. Skin lightening in general is an issue that is connected to race and identity and is a hot-button issue for some people. Despite the controversy, sale of whitening moisturizer and related products continues.
AS FEATURED ON:
AS FEATURED ON:

By: Artem Furman

Whitening moisturizer is used to make skin appear to be lighter in color.

By: Mikhail Malyugin

Some people use a whitening moisturizer to help correct uneven pigmentation due to sun damage and other factors.

By: picsfive

Vitamin C and licorice extract are among common natural ingredients found in whitening moisturizer.

By: Photographee.eu

Whitening moisturizer comes in various forms.