What is the Contemporary Style of Decorating?
The contemporary style of decorating incorporates current trends into its design, but a few common elements are always present. Contemporary decorating is all about a minimalist, uncluttered look with clean lines. Although neutral colors are usually used in a contemporary decor, there is always room to add a strong accent color.
Contemporary decorating pieces for a living room may include a sectional sofa in solid colors and a clean-lined coffee table. The coffee table may be very creative, such as a base made from a few pieces of recycled metal with a glass top, or it may be a simple geometric shape made out of wood with only four legs and a top. Tables in the contemporary style of decorating don't have fussy details such as carvings or a lot of drawers or extra details. Plain, yet dramatic bookcases may also accent a contemporary living room. A few well-chosen larger accent pieces such as vases or lamps that impart the style of the times are the perfect accents for the contemporary living room.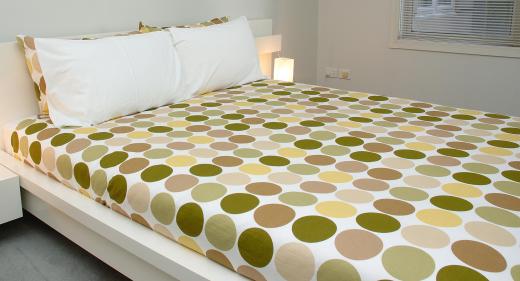 Contemporary decorating pieces for a dining room include a clean-lined table and chair set. Tall, straight-backed chairs work well in a contemporary dining room, but any chairs that are not overly ornate will work. The dining cabinet should fit with the clean lines of the chairs and table. An ornately-carved medium-toned wood would look out of place with the hard lines and plain surfaces of a more contemporary look. Many contemporary decorating schemes use either very light woods or very dark woods as medium-toned finishes could make the look too traditional.
Kitchens in the contemporary style of decorating usually don't have wallpaper or printed fabrics. If they do, the look is bold and sophisticated without too many competing colors. Uncluttered countertops are an important consideration when you're trying to maintain a contemporary kitchen decor. Look for larger items such as a huge clear glass canister jar in a simple shape. Glass-paned cabinet doors can look great in a contemporary kitchen, but overly-detailed molding accents and clutter showing through the glass can ruin the clean look.
Bedrooms in the contemporary style of decorating look minimalist and the furniture should be kept to a few pieces in simple shapes. If you have your heart set on a four-poster bed, make sure the finish is plain and the shape is not carved or detailed. Mirrors can be any geometric shape in a contemporary setting and several large mirrors can add drama on a wall or when used together as a headboard.
AS FEATURED ON:
AS FEATURED ON:

By: Alexander Gitlits

Minimalist bedroom furniture is often simple in shape and design.

By: ponsulak

Different accent pillows can compliment other pieces of furniture.

By: Michele Sacchetti

Contemporary decorating leaves room to add some bold colors as accents.