What Should I Look for in a Contemporary Dining Chair?
The first thing to look for in a contemporary dining chair is a clean-lined appearance. If you start with that, you'll be able to choose a model that even has a printed pattern; otherwise, there will be too much detail for a modern style. You don't necessarily have to pick a Parson's style of chair in which there are no furniture arms or open spaces, but just a tall, solid fabric backrest. A ladder back dining chair, with or without armrests, that has a lot of open space between the back rest's rungs will also work. If you'd rather have a more rounded style of contemporary dining chair, this will also work as long as the overall shape remains clean and geometrical.
Since contemporary decor should always be up to date, avoid dated, rounded dining chair styles such as matte plastic tub types, unless they're considered stylish again. Instead, think about a round-edged chair in glossy black plastic, clear acrylic or whatever is the most trendy style that you also love. It's never a good idea to buy any furniture unless you love it, including the material. While some kinds of plastic dining chairs can look sophisticated, they may be too casual for a more formal dining room style.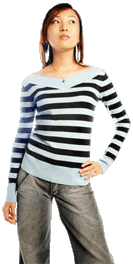 If you're looking for formal contemporary dining chairs, leather or fabric covered ones may work best. If you want to make a bold statement, you could choose a printed pattern. Generally, for contemporary homes, these prints should be large and graphic. Abstracts in black and white or assorted colors that tie-in with your color scheme are great choices. Remember that you'll have to live with the print you choose, so it's not a good idea to pick fabric-covered dining chairs in a pattern you'll soon become tired of, or you may find yourself considering the expense of reupholstering sooner that you'd thought.
To choose the right solid color of dining chair for your contemporary decor, take a look at the room from different angles. Doing this should help you picture whether a lighter or darker contemporary dining chair color will be the most flattering for your space. Don't select a neutral just to be safe, if what would really make your dining room wonderful to you is red fabric or leather chairs. If you do prefer a neutral chair color, this will be more versatile if you decide to eventually change your decorating color scheme.
AS FEATURED ON:
AS FEATURED ON:

Woman with hand on her hip