Taramosalata is a Greek and Turkish dish made from preserved fish roe. This dish is typically offered as part of a spread of meze, or appetizers, which can include an assortment of small, light dishes which are eaten before dinner or with several glasses of wine or ouzo. Taramosalata is sometimes available from specialty grocers who carry traditional Greek and Turkish foods, and it can also be made at home, as long as cooks have access to preserved fish roe.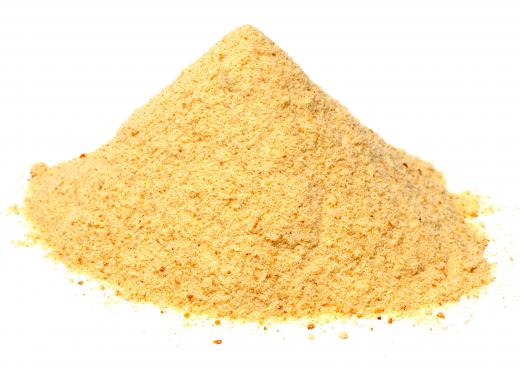 The name for this dish is derived from the Turkish taramas, which means "preserved roe," and salata, Italian for "salad." The dish is made by blending the roe with olive oil, garlic, and lemon juice to create a smooth, creamy paste, and then adding body to the paste with mashed potatoes or moistened breadcrumbs. Typically, taramosalata is served with bread, crackers, or crudites, and it could be thought of as a form of Greek caviar.
Smoked cod roe is one of the most common choices for taramosalata in the Mediterranean, although other forms of roe can easily be used as well. This dish is naturally salty, thanks to the preservatives used to keep the roe fit for consumption, and it can have a light or fishy taste, depending on the type of roe used, and the quality of the roe. The strong hint of salt pairs well with ouzo and raki, two beverages commonly found in this area of the Mediterranean. Wine tends to be less ideal for pairing, because the flavor of the taramosalata is so strong that it overwhelms the wine.
This dish is usually served chilled, and it may be garnished with cucumber wedges, tomatoes, dill, or various pickled vegetables. Like other meze, it is served in a large dish in the middle of the table, so that all of the diners can help themselves to as much or as little as they want. Serving utensils are usually left off a dish of taramosalata, since diners can scoop up what they need with bread or crackers. However, a small spoon may be provided so that people can mound taramosalata on their own plates in a gathering where people are concerned about neatness and the potential for the spread of germs.
Depending on what kind of roe is used, taramosalata may be creamy white to bright pink. Since some people have become accustomed to bright pink taramosalata, it is not uncommon for commercial producers to dye their taramosalata with food coloring to create the desired color. Food coloring may also be used to dye taramosalata in blue and white, the Greek national colors.


By: grekoff

Olive oil, which is used to make taramosalata.

By: Vidady

Moistened breadcrumbs are added to fish roe paste when making taramosalata.