What Is Stuffed Turkey Breast?
Stuffed turkey breast is a twist on the traditional stuffed turkey dinner where the entire bird is served rather than only the breast of the turkey. Commonly starting with a boneless turkey breast, stuffed turkey breast contains the same types of stuffing that can be used in the whole bird. The breast is sliced open and the stuffing is placed inside of the split breast. Commonly, kitchen twine is used to secure the stuffed turkey breast and prevent the stuffing from coming out while the turkey breast is cooking. Once cooked, the breast is sliced and served with the stuffing.
Preparing a stuffed turkey breast rather than an entire bird can dramatically reduce cooking and preparation time. Fresh and frozen turkey breasts are typically available year-round in most areas and are suitable as a main course. The turkey breast should be washed and prepared by slicing approximately three-quarters of the way through the thickest part of the breast with a sharp knife. The stuffing may contain the same variety of ingredients and seasonings typically used in stuffing for a whole bird. The mixture should be pushed loosely into the slit created by slicing the turkey breast.
The stuffed turkey breast is then tied by using a small length of kitchen twine wrapped around the breast and positioned to prevent the stuffing from falling out of the breast as it cooks. The breast can then be placed into a roasting pan along with a small amount of liquid to prevent the stuffed turkey breast from sticking to the pan. Water, chicken stock or vegetable stock can be used in the pan, however, melting a stick of butter and pouring it into the pan will not only prevent the turkey from sticking, it will make a base for making gravy once the turkey has finished cooking.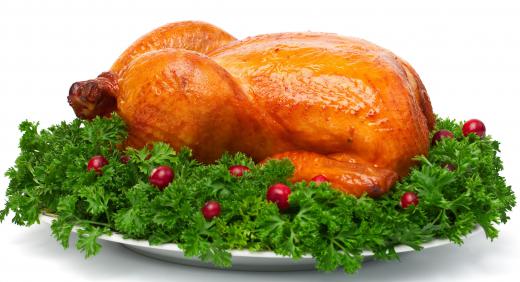 When cooked in an oven, the turkey breast can be cooked until nearly finished while covered with aluminum foil or a roasting pan lid, and then uncovered to finish browning for the final 15 minutes of roasting time. The turkey should be allowed to rest for 10 to 15 minutes before carving and serving. This will allow the juices to return and redistribute throughout the breast, creating a juicy and flavorful meat. Mashed potatoes, carrots and green beans are typical side dishes served with stuffed turkey breast. Other common side dishes for turkey are hot rolls, cranberry salad and relish trays.
AS FEATURED ON:
AS FEATURED ON:

By: JJAVA

Mashed potatoes are often served with stuffed turkey breast.

By: Olga Nayashkova

A roast turkey.

By: img85h

Trussing meat may be achieved with kitchen twine.

By: Stephanie Frey

Turkey breast can be served with gravy.