Sheetrock® is a trademarked product manufactured by the US Gypsum Company. Because US Gypsum is one of the world's leading suppliers of drywall, the name "Sheetrock" has become synonymous for drywall, or gypsum wall board. Sheetrock® is made from a blend of sand, water and natural gypsum pressed between two sheets of heavy paper. It is one of the most widely used construction materials in the world, and is typically used to build walls, ceilings and other architectural elements.
Though Sheetrock® was invented in 1916, it didn't catch on with builders for another 30 to 40 years. Before the 1950s, walls were traditionally constructed from plaster. This process was very labor-intensive, and required installers to nail thousands of wooden strips, or lathes, onto the wall to support the plaster. Material and labor shortages during World War II forced builders to look for more cost-effective construction methods. As the word began to spread about the ease of Sheetrock® installation, drywall quickly replaced plaster as the building material of choice for walls and ceilings.
In addition to the speed at which it can be installed, Sheetrock® offers a number of other benefits over plaster. While plaster needs days or weeks to dry completely, drywall can be painted immediately after installation without holding up the project. It also weighs a great deal less than plaster, resulting in less wear and tear to a building's structural and foundation systems. Finally, Sheetrock® offers a higher level of fire-resistance than plaster, which may give occupants more time to exit a building safely during an emergency.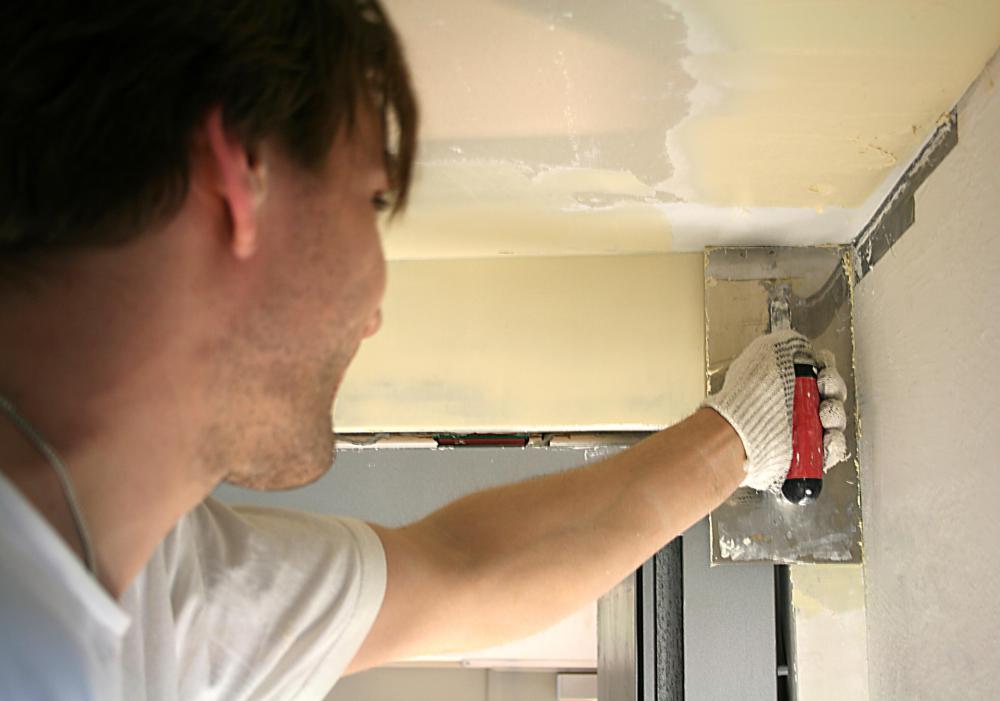 A standard sheet of wall board measures 4 feet by 8 feet (1.2 by 4.4 meters), though larger sections are available for buildings with high ceilings or other specialty requirements. Interior walls are typically constructed from drywall that's 1/2" thick (12.7 mm), though walls subject to more wear and tear may use thicker sheets that measure 5/8" (15.875 mm). For curved walls, builders can use 1/4" (6.35 mm) Sheetrock® that is moderately flexible and can be shaped.
Many different types of Sheetrock® are available to suit a variety of applications. While traditional drywall is naturally fire-resistant, builders can also choose "Type-X, " or fire-rated Sheetrock®. This material is enhanced with perlite and vermiculite to increase resistance to heat and flames. Type-X drywall is widely used in commercial buildings, and is available with ratings ranging from 20 minutes to 180 minutes.
Greenboard, so named because of its green paper coating, is a moisture-proof material used in kitchens and bathrooms. Those who like the look of plaster should consider blueboard. This specialty material is used for veneer plaster applications, where a thin layer of plaster is installed over the board to achieve a high-end look. Soundboard is a type of drywall constructed to block sound transmission between different rooms, and may be installed in multiple layers to ensure noise levels are maintained. Lead-lined drywall is used in high-security applications, or in rooms that use specialty equipment like X-ray and Magnetic Resonance Imaging (MRI) machines.
An installer applies a finish coating to a Sheetrock® wall.

Sheetrock®, also known as gypsum board or plasterboard, is a flat, white board used to create the inside walls of homes.

Plaster needs days or weeks to dry completely.

Some professionals prefer name brand drywall while others prefer generic.