Shark liver oil is an extract prepared from the livers of sharks. The oil has been used for centuries as both a food and as a remedy for a number of common ailments. At present, the amount of research into the efficacy of the oil is somewhat limited, although there is data available on the basic nutritional content and some anecdotal evidence regarding the health benefits derived from consuming the product.
In terms of nutrients, shark liver oil is found to have significant amounts of Vitamins A and D, as well as being a good source of omega-3 fatty acids. The oil also has a high content of alkylglycerols accompanied by fatty alcohols and glycerol ethers.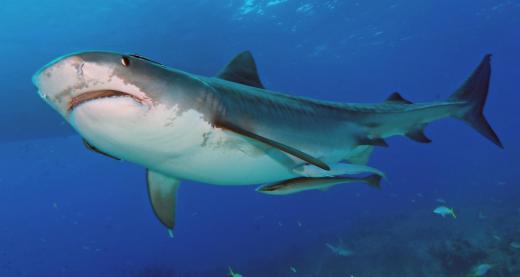 The nutrient content found in this substance allows the product to help with a number of different ailments. Among the most commonly reported benefits are the ability to ease discomfort in the respiratory tract, and soothe the swelling of lymph nodes. There are those that believe the benefits of shark liver oil are similar to that of oils harvested from salmon and other fish, including the ability to help the body lower bad cholesterol levels while encouraging the increase of good cholesterol.
There are also a few recipes for a homemade shark liver oil skin care product. The product is said to help moisturize dry skin, making it helpful for fishermen who spend a great deal of time in the sun and wind. Formulas for a cancer cure made from this oil also be found, some of them for consumption and some applied to the skin directly above the location of the cancerous tumor.
Despite the long history of the oil as a folk remedy for everything from sore muscles to wound healing, there are some concerns about the frequent use of the product. Side effects such as diarrhea and nausea have been reported, especially when frequent use of some type of the supplement is used daily. A few studies indicate that excess consumption could lead to an unhealthy increase in triglyceride levels. Some users have also noted cramping and a generally upset stomach.
Today it is possible to purchase shark liver oil at many health food stores. Along with small bottles of processed oil, it is also possible to obtain softgels as well as shark liver capsules. Many people prefer the softgels and capsules due to the somewhat pungent taste of the product.
While there is no current evidence that the oil has a negative interaction with prescription medication, it is important to report its usage to the attending physician. Should any side effects become apparent while using the oil in conjunction with any prescription medication, it is a good idea to cease use immediately and contact your doctor.
AS FEATURED ON:
AS FEATURED ON:

By: Christopher Bartlett

As its name suggests, shark liver oil is extracted from the livers of sharks.

By: Pavel Losevsky

Shark liver oil may help reduce swelling in the lymph glands.

By: RGtimeline

Fishermen who spend a great deal of time in the sun and wind may benefit from using shark liver oil, which helps moisturize dry skin.

By: diego cervo

Shark liver oil is available in softgels as well as shark liver capsules at many health food stores.