Rice pudding is served plain in many cultures, or perhaps with just a scoop of whipped cream and a cherry. In Belgium and the Netherlands, it forms the excuse needed to make a creamy dessert called rijstevlaai, or simply Hollandish rice pudding cake. Occasionally coated in a thin layer of fresh baked fruit or almond slivers, this pie-like cake is straightforward rice pudding baked over a thick, buttery cake dough that, when complete, has melded the two major components into a successful marriage of texture and flavor.
Rijstevlaai demands a solid foundation of moist cake with a tender, brown crust. One traditional recipe blends milk, yeast, butter, egg, sugar, salt and flour. Some recipes add other flavorings to the cake like cardamom and even lemon zest to make it distinct.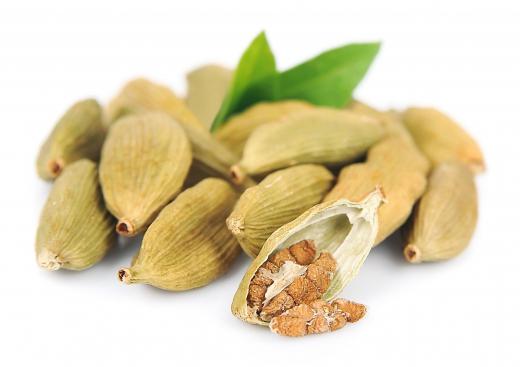 The rice pudding for the rijstevlaai is a major contributor to the dessert's overall moistness and flavor. Though a store-bought custard or pudding will work, many create their own with a mixture of coconut milk, vanilla, lemongrass, cardamom, rice and some more lemon zest. This is brought to a boil, then simmered for no more than five minutes. Then, after removing the mixture from the heat, a sequence of other ingredients are whipped into the pudding: sugar, egg yolks, and then the egg whites, separately.
After greasing a cake pan, many spread the dough to its edges, leaving a little extra around the perimeter to take on a darker brown hue. After the batter is allowed to rise for about an hour, the rice pudding can be poured on top of it. The rijstevlaai is not ready for the oven, however, until a final layer goes on top. Some simply garnish the top of rice pudding cake with shaved almonds and a brushing of butter or egg white. Often, chefs will add thin slices of peach or apple, then sprinkle this with brown sugar and extra granulated sugar.
It would not be unusual to bake the dish with just the rice pudding on top. Most cook the rijstevlaai at 180°F (about 82°C) for no more than 45 minutes, until the top has taken on a toughened brown texture. Other countries prepare similar versions of this dessert. In France, it is called tarte au riz, while in Germany, it is reisfladen. A regular addition to any of these regional dishes is sweet liqueur or brandy, often in a flavor that complements a fruit on the top of the cake.
AS FEATURED ON:
AS FEATURED ON:

By: margo555

Cardamom is commonly used to season rijstevlaai.

By: Ingae

Egg yolks and egg whites are added separately when making rijstevlaai.