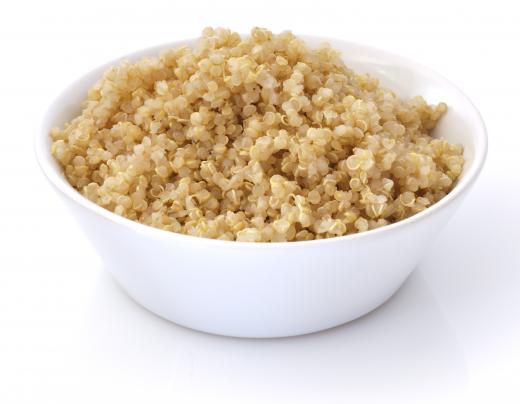 Pilaf generally refers to a rice-based dish that is first sauteed in oil and then cooked in a savory broth. When quinoa grain, not rice, is the used as the base, the dish is a quinoa pilaf. Quinoa pilaf has much in common with rice pilaf, such as how well it pairs with a variety of ingredients. Its flavor and consistency is different from rice in some respects, and it provides an alternative for individuals with special dietary needs.
Prepared in much the same way as rice pilaf, the quinoa must be well-rinsed and drained prior to cooking, sauteed in olive oil or some other fat, then simmered for 15 to 20 minutes in a stock or broth flavored to taste. As with rice pilaf, proteins like meats and beans, plenty vegetables, and even fruits can be added to quinoa pilaf. Some quinoa recipes call for different cooking methods and food pairings, but using oil to coat and separate the grains and simmering until the grains are fairly dry is what makes a pilaf.
There are some differences to cooking with quinoa instead of rice to prepare a pilaf. For instance, all quinoa has a delicate, nutty flavor and slightly crunchy consistency, which is only the case with some rice varieties. Although quinoa quadruples in size after it is cooked, it also maintains a lighter texture than cooked rice. In addition, rice is typically white or brown, but quinoa grains are available in a variety of colors, such as black and orange, which can heighten a pilaf's aesthetic appeal.
Quinoa pilaf also has certain nutritional properties that are not always found in rice pilaf. Sometimes referred to as a 'supergrain,' quinoa has a high amount of calcium, iron, and other vitamins and minerals compared to other grains. In addition, it has the highest protein content of all grains, so vegans and vegetarians who are lacking in protein could benefit from some quinoa recipes. As a gluten-free food, quinoa is an option for individuals who have celiac disease or other conditions or preferences that require them to exclude gluten from their diets. Making quinoa pilaf completely gluten-free requires careful planning, as gluten might be in some of the other ingredients, such as the broth or stock.


Bowl of cooked quinoa.

By: joshya

Quinoa is a good option for people with celiac disease or a gluten intolerance.

By: Stepan Popov

Brown rice can be used in lieu of quinoa when making pilaf.

By: tycoon101

Quinoa pilaf is often prepared by being sauteed in olive oil.