What Are the Best Tips for Sprouting Quinoa?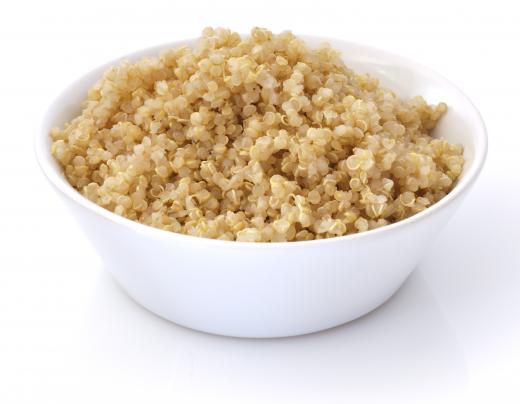 With a very high nutritional value, quinoa has become a favorite among those choosing to pursue a more healthy and balanced diet. Though it is grain-like, it is actually considered a vegetable. Eating quinoa raw is the best way to receive the most nutrients from it. In order to sprout quinoa, the raw seeds must be rinsed and soaked overnight, then kept a warm, dark place.
Quinoa that is intended for sprouting must be purchased in its raw form. If it is not raw it will not sprout. This is a common mistake often made when first trying out this process.
Before sprouting quinoa, it must be rinsed well. This will remove any debris and the saponins, which are a kind of natural detergent. Running the quinoa under cool water is best, as warm water can damage it.
Soaking the quinoa in water will help ensure the best results. It should be soaked overnight or for a minimum of 12 hours. The quinoa should be placed in fresh water, not the water it has been rinsed in. It should be fully submerged.
Sprouting quinoa is best done in a warm, dark place. This allows for optimum cultivation of the sprouts. Though it might seem that sun would encourage the growth of the sprouts, it will not. Sun will dry out the quinoa and destroy its potential to sprout.
It takes approximately 48 hours for the entire process, from start to finish, when sprouting quinoa. After it has been soaked, the quinoa should again be rinsed. It should then be spread across a plate or tray in a thin layer. It is best not to have the small nuggets clumped or bunched together, as this will inhibit their sprouting.
Once the quinoa has been laid out, it should be covered with a light cloth. Cheesecloth is a good choice for a covering, as it allows the air to reach the sprouts. It also helps ensure that the plate or tray will stay shrouded in darkness.
For best results when sprouting quinoa, during the 48 hour period when the spouts are growing they should be rinsed approximately every six hours. The rinsing provides the fragile sprouts with the water they need to grow. After they have been rinsed, they should again be spread out in a thin layer and covered.
Though it is often served after it has been cooked, sprouting quinoa offers a more nutritionally packed way to eat it. It can be served over salads, in place of bean sprouts. Diced avocado served on a bed of the sprouts can serve as vitamin packed vegetarian meal.


Bowl of cooked quinoa.

By: Gennadiy Poznyakov

Sprouting quinoa may be used in a salad, in which case it can deliver more nutritional value.