Hyssop refers to a group of herbaceous plants which may first have been grown in the Mediterranean. Its uses are numerous—it can be an herb used for seasoning, but is more often used in medicinal remedies. Farmers enjoy the varieties of hyssop because they attract bees, providing surer ways of pollinating crops. The flowers, which bloom in late May, are quite pretty, and any variety of this plant can be a nice addition to a wildflower garden.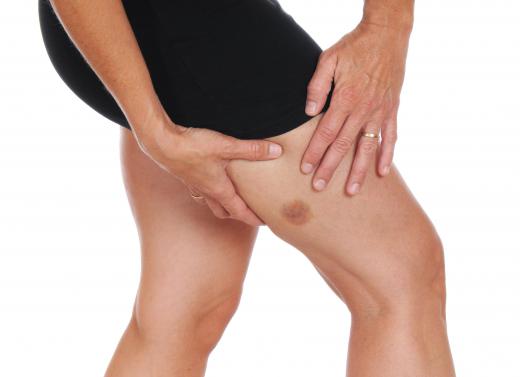 The taste of the plant is described as somewhat minty with a bitter aftertaste. It may have been part of the bitter herbs used in Jewish Passover ceremonies and there is biblical reference to the plant. When Jesus is given a sponge soaked with wine during his crucifixion, the sponge is offered on a stalk of hyssop.
Hyssop grows in stems that in some varieties can reach about two feet (about 61 cm) in height. The leaves can be around 1-2 inches ((2.54-5.08 cm) in length. The leaves themselves are semi-oblong in shape and can be plucked off the stem for use in a variety of applications. As flavoring, hyssop may be used in small amounts to flavor soups, stews, or meats. A few leaves can make a nice addition to herb or wild lettuce salads.
In herbal medicine, hyssop is frequently employed as a cough or cold treatment, and you may find it in herbal teas made for this purpose. You might want to flavor these teas with a little honey, since they can be bitter. It may also have anti-inflammatory properties, and some apply a tincture of the herb to cuts, scrapes or bruises.
You should use care if taking tinctures or essential oil hyssop internally, because in large doses it can cause convulsions. Although it should not be offered to children, adults find these tinctures, when taken in appropriate doses, helpful in promoting relaxation. As with all herbal medications, check with your doctor first prior to using any herbal remedy, especially if you have any known health conditions or regularly take other medications.
You can grow hyssop in most regions of the US, where it prefers full sun and sandy soil. Seeds and/or cuttings can both produce new plants. Some varieties are perennials, and therefore don't need yearly replanting. Other more decorative varieties may require yearly replanting, and if you live in colder regions, you may have to replant even perennials.
You may also find this plant grown among the rows of grapes in wineries. It is believed to boost grape production. In the spring, it's hard not to notice the plant, since it produces bright blue to purple flower that are known attractors to butterflies and the Cabbage Moth.


By: NJ

Hyssop can attract butterflies.

By: PeJo

Hyssop can be used to treat bruises.

By: Nitr

Honey can help sweeten the bitter taste of hyssop tea.

By: JPC-PROD

Hyssop may be used as a cough treatment.