What is Corporate Owned Life Insurance?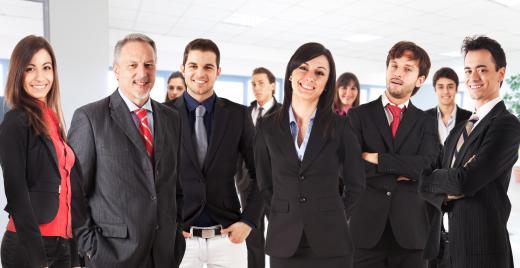 Corporate owned life insurance or employer owned life insurance may be called COLI or EOLI respectively. It is also sometimes humorously called dead peasants benefits, but usually only when companies carry it on employees who tend to make low wages. Corporate owned life insurance is not necessarily used to give death benefits to an employee's family or survivors. Instead it can be insurance carried by a company to reimburse the company upon an employer's death.
One reason some companies purchase corporate owned life insurance is to defray potential costs of losing a high-ranking employee in a company. Loss of partners or those who own a share in the business can cost money and result in unexpected expenses. When a company uses corporate owned life insurance, they may do so in order to recoup these expense if an employee dies.
Up until mid 2000, corporate owned life insurance had some extraordinary tax loopholes that might be taken advantage of by employers. Under US tax code, most life insurance benefits weren't taxed. This created an opportunity for companies to take out life insurance policies on their employees, no matter how much or little they were paid, and benefit without tax penalties from their death.
In the early 2000s, companies like Wal-Mart had taken huge numbers of insurance policies to create instant tax-free benefits when employees died. In a significant legal case on this subject, Wal-Mart had to repay taxes on benefits. Moreover, Wal-Mart and other companies that used the so-called dead peasants insurance loophole weren't taking most of these policies out on higher ups in their company. They were purchasing them on low wage earners, which certainly gave the appearance of some impropriety. It should be noted that Wal-Mart lost $1.3 billion US Dollars (USD) with the court decision to hold them responsible for taxes.
With the closure of this loophole, many companies ceased to take out corporate owned life insurance because of the potential tax problems resulting, although it is not illegal to do so in the US. There are still some important laws regarding this. Employees on which a company has corporate owned life insurance must be informed of this, signify they understand this insurance does not entitle their survivors to benefits, and they must consent to be insured by the company. There are some exclusions to this law if the employee earns very high wages.
There are still some good reasons why an employer might want to defray costs of losing an important employee. However the way the law was applied in the past in the US gave the appearance that some companies planned to directly benefit from their employees' deaths. This is perhaps not the best public relations idea for a company.


By: Minerva Studio

One reason some companies purchase corporate owned life insurance is to defray potential costs of losing a high-ranking employee in a company.