What Is Cookie Dough Cheesecake?
Cookie dough cheesecake includes actual cookie dough in a classic cream cheese-rich cake. These cheesecakes can be create in cake or bar form and may include cookie dough as the crust, topping, or mixed into the cream cheese filling. Normally, chocolate chip dough is used, and when the cheesecake is homemade, the cookie dough is often made from scratch as well.
Whether baked as bars or cakes, cookie dough cheesecake usually includes similar ingredients. Cream cheese is the primary ingredient for the classic filling. Sugar, eggs, and vanilla extract are also usually added. Sour cream or sweetened condensed milk and chocolate chips may be included in the filling as well. Regardless where the cookie dough is placed, is it normally made separately from the filling.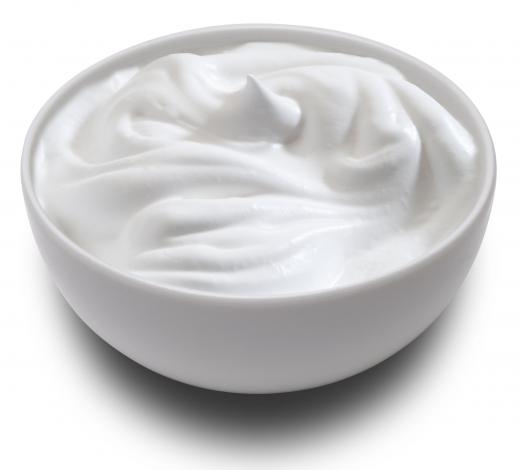 The cookie dough usually includes unsalted butter, salt, flour, and chocolate chips, as well as brown and white sugars. Vanilla extract is also used in the cookie dough for flavoring. Most of the ingredients are beaten together, then the flour is mixed in. The chips are stirred in last. Pre-made chocolate chip cookie dough can also be used.
A graham cracker or cookie crust is usually made for cookie dough cheesecake. The crust may simply be crushed graham crackers or chocolate wafer cookies mixed with butter, and possibly sugar, then pressed into a pan. Cookie dough, however, may also be used for the crust. When cookie dough is used, it is often pressed into the pan first, then the graham cracker or wafer topping is layered over the dough.
If the cookie dough is not included in the crust, it may be mixed into the filling after the filling is made. More often, however, it is placed on top after the filling has been poured into the pan. The cookie dough is spooned in dollops onto the surface of the cake, until the filling is completely or nearly covered. This is most often done when the cookie dough cheesecake is prepared in bar form. The cookie dough may or may not be chilled before use.
When prepared as a cake, cookie dough cheesecake is normally made in a springform pan. Cheesecake squares are most often made in square pans lined with parchment or wax paper. The paper is cut larger than the pan, so the finish squares can be lifted out for easy cutting. The cheesecake is cooked between 30 minutes and one hour. Once cooked, it should be cooled briefly then refrigerated.
AS FEATURED ON:
AS FEATURED ON:

A bowl of sour cream, which is often used in making cookie dough cheesecake.

Chocolate chip cookie dough.