What Is Butter Bean Salad?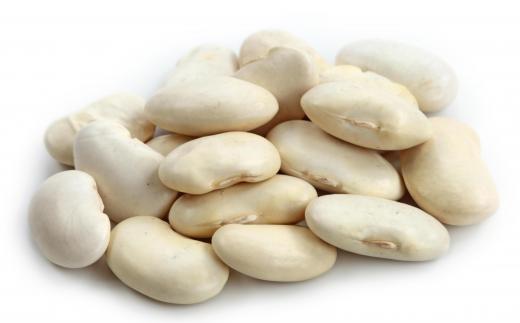 A butter bean salad is a vegetable dish made with butter beans. Though it is typically a summer salad that is served cold, it may also be cooked and served warm. It is very simple to make, though there are many different recipes available and various ways to customize the dish. It may be made with an oil-based or mayonnaise-based dressing, depending on whether a person wants to make it slightly healthier or prefers to avoid animal products. Though butter beans represent the bulk of the dish, other vegetables can certainly be added to make it more filling or to balance out the flavor.
Begin by purchasing the butter beans, which may be either canned or dried. Canned beans are the easiest option, because they may simply be taken out of the can, rinsed, and eaten. Dry beans are less expensive, however, and are easier to buy in bulk. These will need to be soaked for a few hours before they are cooked, however, which requires a bit more prep time. Then consider any other ingredients that might be included in the salad. Spinach, peppers, corn, or other types of beans -- such as in a mixed bean salad -- may also be added. In fact, it would be quite odd to prepare a butter bean salad with butter beans as the only ingredient.
Onion and garlic are often added to the salad for extra flavoring, as well as spices such as cilantro, black pepper, or cumin. Of course, this also depends on the taste preferences of the person making the salad, as well as the type of dressing that will be used. Some choose to give it a spicy mustard flavor. Mayonnaise, or olive oil and lemon or lime juice, or even simply Italian dressing all represent different options for adding a dressing to a butter bean salad.
Some people choose to add meat to a butter bean salad or mixed bean salad as well, generally small pieces of salami, bacon, or ham. Be sure to warn people that the salad contains meat if bringing it to a picnic, however, since some might assume it is a vegetarian option. In most cases, butter bean salads are served chilled, which is another reason they are so easy to prepare; the ingredients are simply all mixed together and put in the refrigerator for a few hours before eating. Certain recipes call for heating the salad, however, which will require a bit more prep work.


By: Elena Schweitzer

Butter beans.

By: Mara Zemgaliete

Sliced salami can be added to a butter bean salad.

By: Louella Folsom

Spicy mustard can be used to flavor butter bean salad.