Bulky yarn is a thick yarn product about double the width of worsted weight yarn. This type of yarn can be used for a variety of knitting and crochet projects and is especially well suited to making outer garments like shrugs and caps. Many knitting stores carry bulky yarn and can order specific brands, colors, and fibers by request from customers.
Working with bulky yarn requires large knitting needles or crochet hooks. It takes between seven and 10 stitches to fill four inches (10 centimeters), depending on the brand of yarn and the size of the needles being used. People can experiment with different yarns and needles to reach the desired gauge for specific projects. If a project made with a thick yarn is going to be felted, it is advisable to make a test patch first to see how the yarn will behave during the felting process.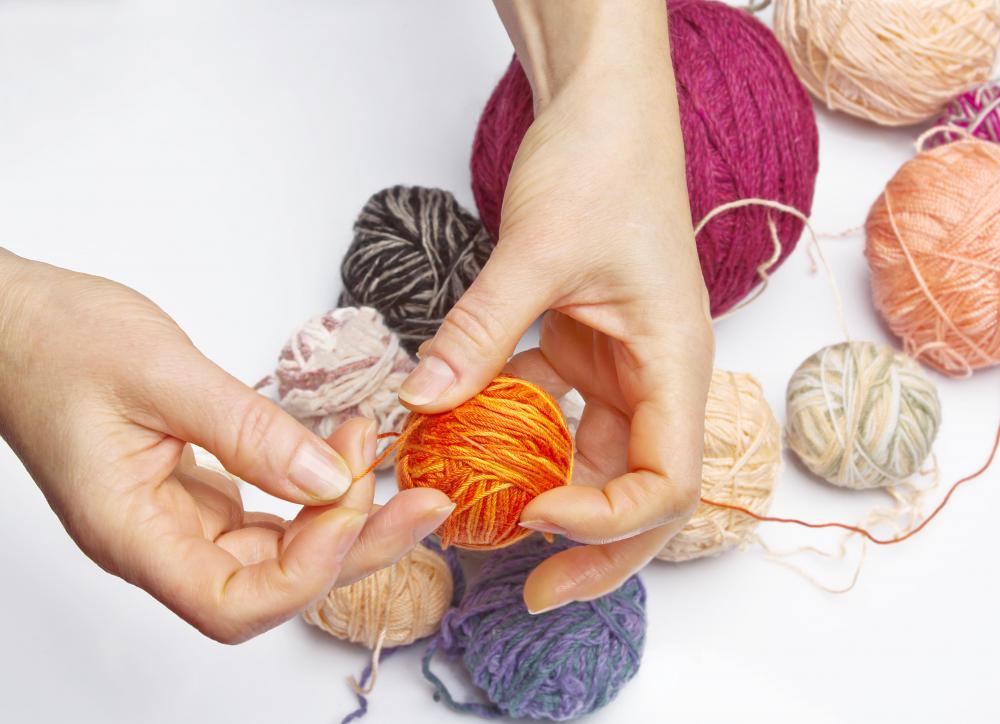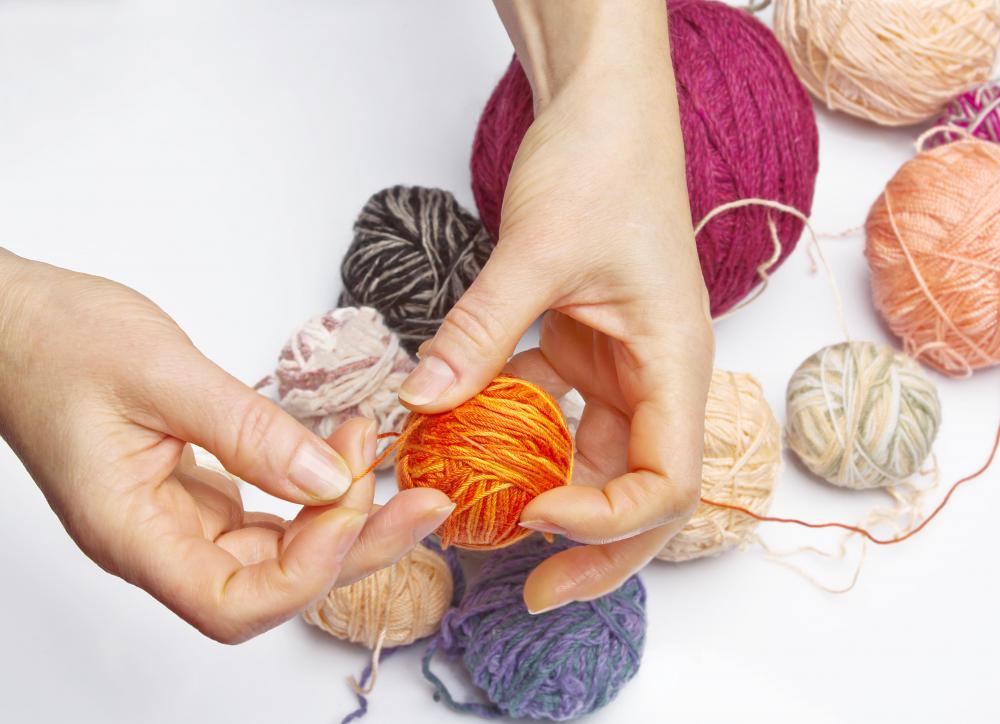 A wide variety of fibers can be used to make bulky yarn, including mohair, alpaca, wool, cashmere, acrylic, bamboo, cotton, and polyester. Some knitting companies manufacture a smooth bulky yarn, with straight, even fibers spun to create a uniformly sized and textured yarn. Others make chunky yarns that may have fibers of variable length. Chunky yarns can also vary in width, an aesthetic choice that can be made during the spinning process. Depending on the type of yarn, bulky yarn may be fully machine washable or it may need to be handled with care. It is advisable to keep the care directions from the package in case they need to be consulted.
Like other yarns, bulky yarn comes in a wide variety of shades. Organic varieties are available for people who are concerned about the dyes used in their yarns, and it is also possible to obtain cruelty-free and animal-free yarns. These yarns can be dyed with vegetable dyes, acrylic dyes, and other dye products, and may be treated to a number of different dyeing processes for different effects. People can also buy raw, undyed yarn and dye it themselves if they have a specific color in mind or want to experiment with different types of dyes.
This yarn tends to be less prone to snarling and tangling than finer yarns, but it can still become twisted or knotted if it is not handled properly. Bulky yarn should be wound into balls for knitting if it is purchased in skeins, and it is advisable to store partially completed projects out of reach of curious members of the household of all species so they do not inadvertently drop stitches or tangle the yarn.
Some bulky yarns may vary in width depending on how thickly they were spun.

Bulky weight yarn can come in a variety of dyed colors.