What Is Amitriptyline Hydrochloride?
Amitriptyline hydrochloride is a tricyclic antidepressant medication that was introduced in the 1960s. It was used for many years primarily to treat depression and other psychiatric illnesses, but this use decreased with the introduction of other antidepressants that have fewer side effects. Along with its use to treat psychiatric disease, amitriptyline hydrochloride is also prescribed for conditions including chronic pain, bed wetting, and fibromyalgia. Side effects of the medication can be severe, and the drug can be fatal in overdose.
The mechanism of action of amitriptyline hydrochloride is that it inhibits the reuptake of the neurotransmitters serotonin and norepinephrine, and therefore affects the activity of different nerve cells in the nervous system. Amitriptyline is the active ingredient in the chemical compound and hydrochloride is a stabilizing agent. As a result, the medication is commonly referred to simply as amitriptyline. The most common brand name of the drug is Elavil®. The medication is typically taken in the form of tablets.
The first use of amitriptyline hydrochloride as an antidepressant medication in the United States was in 1961. For many years, this drug was used primarily used to treat mood disorders such as major depressive disorder, dysthymic disorder, and bipolar disorder. It also was used to treat some patients with obsessive-compulsive disorder, social phobia, and generalized anxiety disorder.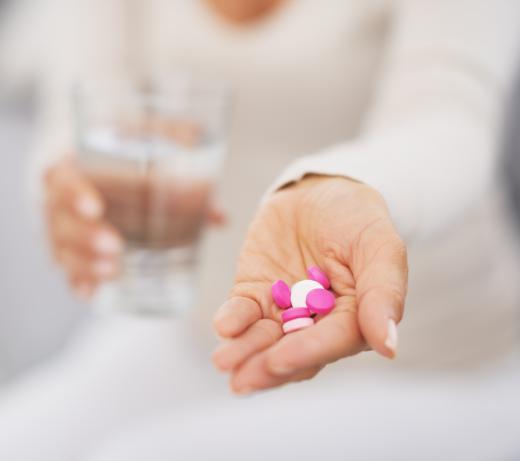 Although initially used to treat depression, prescription of amitriptyline for this purpose has decreased over the years. After the introduction of the selective serotonin reuptake inhibitor (SSRI) class of antidepressants, such as fluoxetine, tricyclics have become relatively less popular. This is because SSRIs have a similar ability to treat depression but are accompanied by fewer side effects than tricyclic antidepressants.
Amitriptyline, however, has also been found to be useful in treating non-psychiatric illnesses. It can help to prevent bed wetting in children, for example. Often it is prescribed to treat chronic pain, such as chronic headaches, pain from old injuries, or neuropathic pain. It also helps control symptoms in conditions such as fibromyalgia, irritable bowel syndrome, and interstitial cystitis.
Common side effects of amitriptyline hydrochloride include dry mouth, dizziness, drowsiness, constipation, delirium, blurred vision, and confusion. More serious side effects can include life-threatening heart arrhythmias, seizures, heart attacks, and low blood counts. Overdose on amitriptyline is particularly dangerous, and patients taking as little as a month's worth of their medications at one time could die.
Patients who are elderly or have glaucoma, a history of seizures, heart disease, or asthma are poor candidates for treatment with amitriptyline. They can experience more severe side effects as compared to other patients. Doctors should not prescribe large quantities of this medication to patients who have active thoughts of suicide because an overdose of the drug could be fatal.
AS FEATURED ON:
AS FEATURED ON:

By: JackF

Amitriptyline may be prescribed for irritable bowel syndrome.

By: Alliance

Selective serotonin re-uptake inhibitors (SSRIs) are prescribed as antidepressants in the treatment of depression and anxiety disorders.

By: snyggg.de

Amitriptyline hydrochloride inhibits the reuptake of the neurotransmitters serotonin and norepinephrine.

By: Grafvision

People who are elderly or have glaucoma should not take amitriptyline hydrochloride.