What is a Professional Flat Iron?
Many women enjoy straightening their hair, whether it is curly or already straight with a slight wave. This is where a flat iron comes in, as it allows users to have pin-straight hair within minutes without having to visit a stylist. This is particularly helpful to those who straighten their hair everyday, but it also saves money for those who only do it on special occasions. Before purchasing a flat iron, it is helpful to know the difference between a professional flat iron and a regular type. The name alone indicates that the professional kind is more desirable than a regular flat iron, as it is more likely to be used in salons.
Some do not know what sets a professional flat iron apart from the typical kind. It is believed that most inexpensive flat irons are made with materials that do not stand the test of time very well. The plates that come in contact with hair are not typically durable, as they are usually made out of aluminum and then painted to look like more expensive materials, such as tourmaline or ceramic. Additionally, the heat is not usually regulated as well, which can mean that the entire plate does not get evenly hot, resulting in areas that do not straighten very effectively.
On the other hand, a professional flat iron does not usually exhibit these issues. This type of iron typically boasts plates that are made of ceramic, tourmaline, or titanium, which are all considered more desirable by most than aluminum. This is mainly because these materials are more durable, heat more evenly, and produce negative ions, while hair emits positive ions. The combination of these factors usually results in relaxed hair that appears smooth.
A professional flat iron is likely used by people who need their hair to look good quickly. Therefore, many major salons and hair stylists to celebrities use this kind of tool, as opposed to a regular flat iron because it tends to heat up much faster. Some can be used less than a minute after being plugged in. Additionally, the entire plate is usually heated rather than just the middle, which means that more hair can be straightened at one time. Such convenience usually makes a professional flat iron the first choice for those who have a limited time to straighten their hair.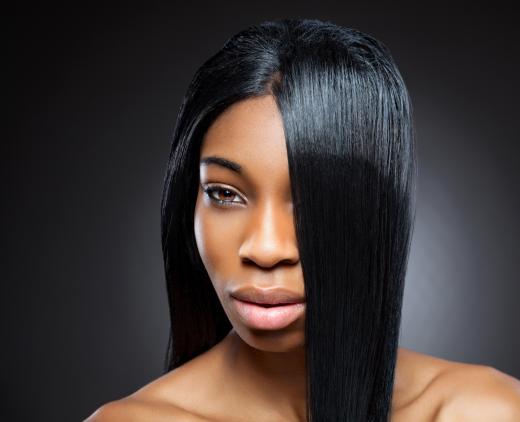 The extra features that often come with a professional flat iron can make it worth the usually high price. For example, many come with a cord that swivels all the way around, making it easier to move with the iron without getting it tangled. Some also include curved plate edges so that it is possible to curl or flip hair with the same tool that typically straightens. Some may also include a travel case, or may even have interchangeable plates for different uses.
AS FEATURED ON:
AS FEATURED ON:

By: Daria Filiminova

Professional flat irons are used to give hair a sleek, soft, and straightened appearance.

By: goodluz

A flat iron can straighten hair in a matter of minutes, without a trip to the salon.

By: and.one

Towards the end of the 1990s, straight hairstyles started to become very popular.

By: indiraswork

People who have curly hair may need to set their flat iron on a high setting.